Today's Devotional
A Prayer for Monday Morning - Your Daily Prayer - June 18, 2018
Top Artists
THE BOOK OF JAMES FROM MEMORY- MERRY CHRISTMAS!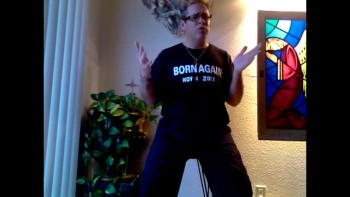 TO GOD BE THE GLORY! The Lord led me to memorize the Book of James several years ago. He only allowed me to work on sections at a time, as a result it took 2 months to memorize. While I was working on each section, something would come up in my life that

I would need those versus for and I would have the answer on my tongue! It was like an open book test and it put the Book of James in my heart. As a result of it being in my heart, I can recite it. The shirt I am wearing was blessed to me by a friend on facebook.
They sell them at www.bornagainshirts.com I LOVE MINE! God bless you all and MERRY CHRISTMAS! Jimmy
Embed

sent232

377 views

2010-12-20T16:40:53

TO GOD BE THE GLORY! The Lord led me to memorize the Book of James several years ago. He only allowed me to work on sections at a time, as a result it took 2 months to memorize. While I was working on each section, something would come up in my life that
I would need those versus for and I would have the answer on my tongue! It was like an open book test and it put the Book of James in my heart. As a result of it being in my heart, I can recite it. The shirt I am wearing was blessed to me by a friend on facebook.
They sell them at www.bornagainshirts.com I LOVE MINE! God bless you all and MERRY CHRISTMAS! Jimmy
Suggested for You
---
Related Videos
---