'Walking Miracles' Matthew West Official Music Video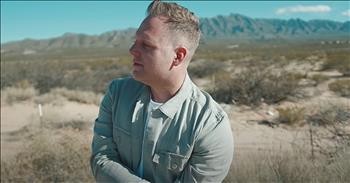 Contemporary Christian artist Matthew West shares the official music video for his inspiring song 'Walking Miracles.' These words remind us all that God is a miracle worker and nothing is impossible when He is by our side.

"They said he's never walk now he walks
They said he's never talk now he talks
Guess you could say
He's a living breathing walking miracle"
When young William suffered a stroke, doctors told him that he might never walk or talk again. But just three weeks later, William was taking his first steps. Walking turned into running and soon, William was doing the 'impossible.'
After a concert, Matthew West had the opportunity to meet this incredible young man and he was inspired to write a song. On Instagram, Matthew wrote, "Many of my songs are inspired by true stories. This song actually led me to get on a plane and surprise the young boy who first inspired the idea for this song!"
"Oh, they're all around us everywhere we go
the proof that we should never give up hope
Cuz we serve a God who turns impossible
Into living, breathing, walking miracles"
This video features the moment that Matthew visited William and played him the incredible song. What a true miracle!
Matthew 17:20 "He said to them, "Because of your little faith. For truly, I say to you, if you have faith like a grain of mustard seed, you will say to this mountain, 'Move from here to there,' and it will move, and nothing will be impossible for you."
matthew-west

316 views

2020-05-12T12:36:39

source: Matthew West Contemporary Christian artist Matthew West shares the official music video for his inspiring song 'Walking Miracles.' These words remind us all that God is a miracle worker and nothing is impossible when He is by our side.

"They said he's never walk now he walks
They said he's never talk now he talks
Guess you could say
He's a living breathing walking miracle"

When young William suffered a stroke, doctors told him that he might never walk or talk again. But just three weeks later, William was taking his first steps. Walking turned into running and soon, William was doing the 'impossible.'

After a concert, Matthew West had the opportunity to meet this incredible young man and he was inspired to write a song. On Instagram, Matthew wrote, "Many of my songs are inspired by true stories. This song actually led me to get on a plane and surprise the young boy who first inspired the idea for this song!"

"Oh, they're all around us everywhere we go
the proof that we should never give up hope
Cuz we serve a God who turns impossible
Into living, breathing, walking miracles"

This video features the moment that Matthew visited William and played him the incredible song. What a true miracle!

Matthew 17:20 "He said to them, "Because of your little faith. For truly, I say to you, if you have faith like a grain of mustard seed, you will say to this mountain, 'Move from here to there,' and it will move, and nothing will be impossible for you."

Today's Devotional
A Prayer to Forgive Yourself - Your Daily Prayer - June 3
Top Artists