Voices Of Gaither Sing 'What A Lovely Name'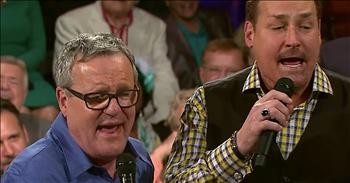 Our favorite Gaither voices come together for a worship-filled performance of 'What A Lovely Name.'

There is truly no one greater than our Lord in Heaven and His Name is the greatest among many. This beautiful song reminds us all to lift up His Name in praise for all of the world to hear.
"What a lovely name, the name of Jesus,
Reaching higher far, than the brightest star.
Sweeter than the songs they sing in heaven,
Let the world proclaim, What a lovely name!"
'What A Lovely Name' is a popular gospel song from Bill and Gloria Gaither. Over the years, this couple has become synonymous with worship music and hymns. Together they have written the famed tunes 'Because He Lives', 'He Touched Me' and more.
Today, Bill and Gloria are gathering with many of their friends to sing this incredible tune of praise.
"He'll return in clouds of glory,
Saints of every race, shall behold His face.
With Him enter heaven's city,
Ever to proclaim, what a lovely name."
What a blessing to hear so many amazing voices come together to lead us in worship. There is no better name than the Name of Jesus. Amen!
Philippians 2:9-11 "Therefore God has highly exalted him and bestowed on him the name that is above every name, so that at the name of Jesus every knee should bow, in heaven and on earth and under the earth, and every tongue confess that Jesus Christ is Lord, to the glory of God the Father."
GodTube-Music

1202 views

2019-12-30T15:39:00

source: Gaither Music TV Our favorite Gaither voices come together for a worship-filled performance of 'What A Lovely Name.'

There is truly no one greater than our Lord in Heaven and His Name is the greatest among many. This beautiful song reminds us all to lift up His Name in praise for all of the world to hear.

"What a lovely name, the name of Jesus,
Reaching higher far, than the brightest star.
Sweeter than the songs they sing in heaven,
Let the world proclaim, What a lovely name!"

'What A Lovely Name' is a popular gospel song from Bill and Gloria Gaither. Over the years, this couple has become synonymous with worship music and hymns. Together they have written the famed tunes 'Because He Lives', 'He Touched Me' and more.

Today, Bill and Gloria are gathering with many of their friends to sing this incredible tune of praise.

"He'll return in clouds of glory,
Saints of every race, shall behold His face.
With Him enter heaven's city,
Ever to proclaim, what a lovely name."

What a blessing to hear so many amazing voices come together to lead us in worship. There is no better name than the Name of Jesus. Amen!

Philippians 2:9-11 "Therefore God has highly exalted him and bestowed on him the name that is above every name, so that at the name of Jesus every knee should bow, in heaven and on earth and under the earth, and every tongue confess that Jesus Christ is Lord, to the glory of God the Father."

Today's Devotional
A Prayer for When Life Gets You Down - Your Daily Prayer - July 6
Top Artists