'On A Night Like This / Silent Night' Medley From Lady Antebellum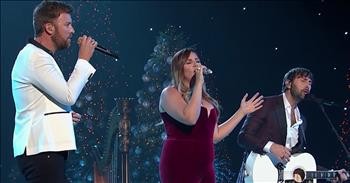 Award-winning country group Lady Antebellum perform a beautiful medley of 'On A Night Like This' and 'Silent Night' at the 2019 CMA Country Christmas.

The first tune is the latest single for the popular band. It is a traditional country love song featured on their album, Ocean. The sweet lyrics speak about falling in love with that special someone.
"On a night like this
I could fall in love
I could fall in love with you
In this dark so dense
We talk so soft
The way young lovers do"
At the annual CMA Country Christmas event, Lady Antebellum was asked to perform. Group member Charles Kelley spoke to PopCulture.com about combining 'On A Night Like This' with 'Silent Night.'
He said, "It just has a very Christmas feel. And so, they gave us the opportunity to perform that. We do a little bit of that medley into 'Silent Night' ... I think for us having a Christmas record too. It's always going to be such a big part of our career, I think, is showing up to things like this and really embracing, obviously, our favorite holiday."
"Silent night, holy night
All is calm, all is bright
Round yon Virgin, Mother, Mother and Child
Holy infant so tender and mild
Sleep in heavenly peace
Sleep in heavenly"
Isaiah 9:6 "For to us a child is born, to us a son is given; and the government shall be upon his shoulder, and his name shall be called Wonderful Counselor, Mighty God, Everlasting Father, Prince of Peace."
godtube-christmas

1861 views

2019-12-10T11:31:47

source: CMAVEVO Award-winning country group Lady Antebellum perform a beautiful medley of 'On A Night Like This' and 'Silent Night' at the 2019 CMA Country Christmas.

The first tune is the latest single for the popular band. It is a traditional country love song featured on their album, Ocean. The sweet lyrics speak about falling in love with that special someone.

"On a night like this
I could fall in love
I could fall in love with you
In this dark so dense
We talk so soft
The way young lovers do"

At the annual CMA Country Christmas event, Lady Antebellum was asked to perform. Group member Charles Kelley spoke to PopCulture.com about combining 'On A Night Like This' with 'Silent Night.'

He said, "It just has a very Christmas feel. And so, they gave us the opportunity to perform that. We do a little bit of that medley into 'Silent Night' ... I think for us having a Christmas record too. It's always going to be such a big part of our career, I think, is showing up to things like this and really embracing, obviously, our favorite holiday."

"Silent night, holy night
All is calm, all is bright
Round yon Virgin, Mother, Mother and Child
Holy infant so tender and mild
Sleep in heavenly peace
Sleep in heavenly"

Isaiah 9:6 "For to us a child is born, to us a son is given; and the government shall be upon his shoulder, and his name shall be called Wonderful Counselor, Mighty God, Everlasting Father, Prince of Peace."

Today's Devotional
A Prayer for Communication During Conflict - Your Daily Prayer - August 13
Top Artists