Sisters Perform 'What A Beautiful Name' From Hillsong Worship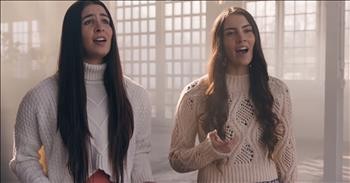 Two sisters perform a beautiful rendition of 'What A Beautiful Name' from Hillsong Worship. This song speaks to the glory and wonder of our Lord in Heaven.

"What a beautiful Name it is
Nothing compares to this
What a beautiful Name it is
The Name of Jesus"
This incredible tune was originally written and recorded by Hillsong Worship in 2016 for their 'Let Their Be Light' album. It was an immediate success and touched hearts all over the world.
This powerful single spent 37 weeks at the top of the Hot Christian Billboard chart. 'What A Beautiful Name' went on to win multiple Dove award and the Grammy award for Best Contemporary Christian Music Performance.
Today, the talented sisters of ELENYI are lending their voices to this iconic tune and it's absolutely amazing. Just listen as they come together to lead us in beautiful worship to His Name.
"You have no rival, You have no equal
Now and forever, Our God reigns
Yours is the Kingdom, Yours is the glory
Yours is the Name, above all names"
There is truly no one like our Lord and He deserves all of our praise for the many blessings that He bestows upon our lives. Let us use these words to lift Him up and spread God's message of love and grace.
Revelation 19:6 "Then I heard what seemed to be the voice of a great multitude, like the roar of many waters and like the sound of mighty peals of thunder, crying out, "Hallelujah! For the Lord our God the Almighty reigns."
GodTube-Music

3444 views

2020-02-04T12:29:46

source: ElenyiMusic Two sisters perform a beautiful rendition of 'What A Beautiful Name' from Hillsong Worship. This song speaks to the glory and wonder of our Lord in Heaven.

"What a beautiful Name it is
Nothing compares to this
What a beautiful Name it is
The Name of Jesus"

This incredible tune was originally written and recorded by Hillsong Worship in 2016 for their 'Let Their Be Light' album. It was an immediate success and touched hearts all over the world.

This powerful single spent 37 weeks at the top of the Hot Christian Billboard chart. 'What A Beautiful Name' went on to win multiple Dove award and the Grammy award for Best Contemporary Christian Music Performance.

Today, the talented sisters of ELENYI are lending their voices to this iconic tune and it's absolutely amazing. Just listen as they come together to lead us in beautiful worship to His Name.

"You have no rival, You have no equal
Now and forever, Our God reigns
Yours is the Kingdom, Yours is the glory
Yours is the Name, above all names"

There is truly no one like our Lord and He deserves all of our praise for the many blessings that He bestows upon our lives. Let us use these words to lift Him up and spread God's message of love and grace.

Revelation 19:6 "Then I heard what seemed to be the voice of a great multitude, like the roar of many waters and like the sound of mighty peals of thunder, crying out, "Hallelujah! For the Lord our God the Almighty reigns."

Today's Devotional
A Prayer to Renew Your Mind - Your Daily Prayer - April 9
Top Artists