'Brand New' Live Performance From Matthew West At The Caverns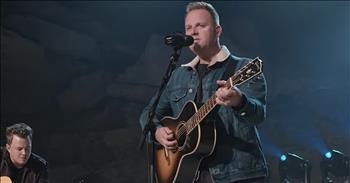 Contemporary Christian artist Matthew West performs a live rendition of his latest single 'Brand New.' These words remind us that God can transform our lives in the most incredible ways.

"He's lifting your shame
He's changing your name
And when you look back the only thing that
You'll see is His grace
Has been making you brand new"
Matthew West has been recording worship music for over two decades. He is a Dove award-winning musician who has given us hits such as 'Forgiveness' and 'Hello (My Name Is).'
Today, he's sharing a song from his new album that is all about making us new. Matthew spoke to CCM Magazine and said, "Brand New is actually inspired by the idea of looking back, or what's more, going back. In many ways this is an album about returning to the days when I was a new Christian, and my faith felt fresh and alive." Just listen as he belts out these powerful words.
"Anyone in Christ is now new creation
Every day you're closer to the you He's making
Take one last look back see your past erasing
You are not who you were, that's over and done
Lift up your eyes to the one"
Ephesians 4:22-24 "To put off your old self, which belongs to your former manner of life and is corrupt through deceitful desires, and to be renewed in the spirit of your minds, and to put on the new self, created after the likeness of God in true righteousness and holiness."
matthew-west

5016 views

2020-01-28T13:31:50

source: Matthew West Contemporary Christian artist Matthew West performs a live rendition of his latest single 'Brand New.' These words remind us that God can transform our lives in the most incredible ways.

"He's lifting your shame
He's changing your name
And when you look back the only thing that
You'll see is His grace
Has been making you brand new"

Matthew West has been recording worship music for over two decades. He is a Dove award-winning musician who has given us hits such as 'Forgiveness' and 'Hello (My Name Is).'

Today, he's sharing a song from his new album that is all about making us new. Matthew spoke to CCM Magazine and said, "Brand New is actually inspired by the idea of looking back, or what's more, going back. In many ways this is an album about returning to the days when I was a new Christian, and my faith felt fresh and alive." Just listen as he belts out these powerful words.

"Anyone in Christ is now new creation
Every day you're closer to the you He's making
Take one last look back see your past erasing
You are not who you were, that's over and done
Lift up your eyes to the one"

Ephesians 4:22-24 "To put off your old self, which belongs to your former manner of life and is corrupt through deceitful desires, and to be renewed in the spirit of your minds, and to put on the new self, created after the likeness of God in true righteousness and holiness."

Today's Devotional
A Prayer of Love from 1 Corinthians 13 - Your Daily Prayer - March 29
Top Artists