'Come As You Are' Live Performance From Matt Maher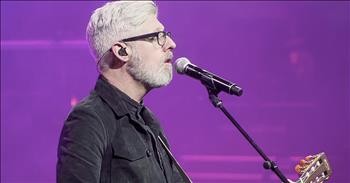 Contemporary Christian artist Matt Maher performs a live rendition of the hit song, 'Come As You Are.'

These powerful words remind us that God accepts us no matter our sins or flaws. Jesus' death washed away our sins and we are freed of our chains.
"Lift up your face
Oh wanderer come home
You're not too far
So lay down your hurt
Lay down your heart
Come as you are"
Matt Maher has been a staple in the Christian music word for decades. As a Grammy-nominated artist, he's written and recorded multiple number one worship songs and continues to use his gift of performing to share God's message.
'Come As You Are' was made famous by fellow Christian artist Crowder. Matt Maher, along with David Crowder and Ben Glover, helped to pen this inspiring hit. Just listen as Matt sits at the piano and belts out these words of hope.
"There's hope for the hopeless
And all those who've strayed
Come sit at the table
Come taste the grace
There's rest for the weary"
God is our rock and our strength. He gives us comfort when we feel like there is none. We can all rest easy knowing that God is by our side each step of the way and He will never let us go.
Isaiah 1:18 ""Come now, let us reason together, says the LORD: though your sins are like scarlet, they shall be as white as snow; though they are red like crimson, they shall become like wool."
matt-maher

2626 views

2020-01-30T14:22:05

source: Matt Maher Contemporary Christian artist Matt Maher performs a live rendition of the hit song, 'Come As You Are.'

These powerful words remind us that God accepts us no matter our sins or flaws. Jesus' death washed away our sins and we are freed of our chains.

"Lift up your face
Oh wanderer come home
You're not too far
So lay down your hurt
Lay down your heart
Come as you are"

Matt Maher has been a staple in the Christian music word for decades. As a Grammy-nominated artist, he's written and recorded multiple number one worship songs and continues to use his gift of performing to share God's message.

'Come As You Are' was made famous by fellow Christian artist Crowder. Matt Maher, along with David Crowder and Ben Glover, helped to pen this inspiring hit. Just listen as Matt sits at the piano and belts out these words of hope.

"There's hope for the hopeless
And all those who've strayed
Come sit at the table
Come taste the grace
There's rest for the weary"

God is our rock and our strength. He gives us comfort when we feel like there is none. We can all rest easy knowing that God is by our side each step of the way and He will never let us go.

Isaiah 1:18 ""Come now, let us reason together, says the LORD: though your sins are like scarlet, they shall be as white as snow; though they are red like crimson, they shall become like wool."

Suggested For You
---
Related Videos
---
Today's Devotional
A Prayer against Anxious Thoughts - Your Daily Prayer - June 4
Top Artists