1 Man Sings A Cappella Rendition Of 'Christ Arose'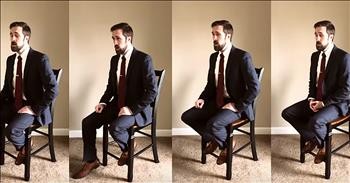 The a cappella voice of Michael Eldridge performs the classic hymn 'Christ Arose.' This beautiful hymn reminds us all that we were given new life when Jesus died on the cross.

"Up from the grave He arose,
With a mighty triumph o'er His foes,
He arose a Victor from the dark domain,
And He lives forever, with His saints to reign.
He arose! He arose!
Hallelujah! Christ arose!"
Michael Eldridge, also known as Acapeldridge, is a self-described one-man gospel quartet. For years, he has been using his vocal talent to give praise to God's Name through worship.
On his website, he said, "My greatest desire is to serve my God with the gift He has given me: Today, I can sing, and so I will. If I can sing tomorrow, I'll sing tomorrow too. But the highest goal for which I fight daily is to sing praises to my God in His presence, in Heaven. What a day it will be!"
We are so blessed to serve such a loving and gracious Father in Heaven. And these words are truly the perfect way to sing of His man praises.
I always love hearing a classic hymn and this a cappella rendition is beyond beautiful. Who else has their hands in their air right now?
Romans 8:11 "If the Spirit of him who raised Jesus from the dead dwells in you, he who raised Christ Jesus from the dead will also give life to your mortal bodies through his Spirit who dwells in you."
GodTube-Music

16548 views

2020-02-07T14:07:14

source: Acapeldridge The a cappella voice of Michael Eldridge performs the classic hymn 'Christ Arose.' This beautiful hymn reminds us all that we were given new life when Jesus died on the cross.

"Up from the grave He arose,
With a mighty triumph o'er His foes,
He arose a Victor from the dark domain,
And He lives forever, with His saints to reign.
He arose! He arose!
Hallelujah! Christ arose!"

Michael Eldridge, also known as Acapeldridge, is a self-described one-man gospel quartet. For years, he has been using his vocal talent to give praise to God's Name through worship.

On his website, he said, "My greatest desire is to serve my God with the gift He has given me: Today, I can sing, and so I will. If I can sing tomorrow, I'll sing tomorrow too. But the highest goal for which I fight daily is to sing praises to my God in His presence, in Heaven. What a day it will be!"

We are so blessed to serve such a loving and gracious Father in Heaven. And these words are truly the perfect way to sing of His man praises.

I always love hearing a classic hymn and this a cappella rendition is beyond beautiful. Who else has their hands in their air right now?

Romans 8:11 "If the Spirit of him who raised Jesus from the dead dwells in you, he who raised Christ Jesus from the dead will also give life to your mortal bodies through his Spirit who dwells in you."

Today's Devotional
A Prayer for the Strength We Need to Be Joyful - Your Daily Prayer - August 14
Top Artists