'The Blessing / The Doxology' Cover From Mass Anthem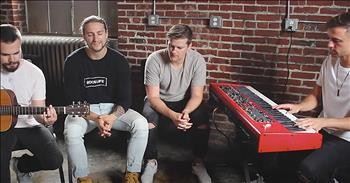 The talented men of Mass Anthem share a beautiful medley of 'The Blessing' and 'The Doxology.'

The Doxology is one of the most recognized pieces of Christian music in the entire world. Many churches still sing these words together each and every Sunday. 'The Blessing' became a worldwide sensation for Christian artist Kari Jobe.
Now, artists from all around the globe are lending their voices to this touching song in difficult times.
"All around you, and within you
He is with you, He is with you
In the morning, in the evening
In your coming, and your going
In your weeping, and rejoicing"
Mass Anthem is a Christian band comprised of brothers Chad and Tyler Sowards, Joey Atansio and Jason Braun. Over the years, they've used their online platform to share the word of God through beautiful covers and inspiring original songs.
Today, they're blending the old and the new with an incredible mashup of 'The Blessing' and 'The Doxology.'
"Praise God from whom all blessings flow
Praise him all creatures here below
Praise him above ye heavenly hosts
Praise father, son, and holy ghost"
As you listen to these words, be reminded that God is always there for us and there is no obstacle too great to face with Him by our side.
Romans 8:38-39 "For I am sure that neither death nor life, nor angels nor rulers, nor things present nor things to come, nor powers, nor height nor depth, nor anything else in all creation, will be able to separate us from the love of God in Christ Jesus our Lord."
mass-anthem

7230 views

2020-06-25T17:11:00

source: Mass Anthem The talented men of Mass Anthem share a beautiful medley of 'The Blessing' and 'The Doxology.'

The Doxology is one of the most recognized pieces of Christian music in the entire world. Many churches still sing these words together each and every Sunday. 'The Blessing' became a worldwide sensation for Christian artist Kari Jobe.

Now, artists from all around the globe are lending their voices to this touching song in difficult times.

"All around you, and within you
He is with you, He is with you
In the morning, in the evening
In your coming, and your going
In your weeping, and rejoicing"

Mass Anthem is a Christian band comprised of brothers Chad and Tyler Sowards, Joey Atansio and Jason Braun. Over the years, they've used their online platform to share the word of God through beautiful covers and inspiring original songs.

Today, they're blending the old and the new with an incredible mashup of 'The Blessing' and 'The Doxology.'

"Praise God from whom all blessings flow
Praise him all creatures here below
Praise him above ye heavenly hosts
Praise father, son, and holy ghost"

As you listen to these words, be reminded that God is always there for us and there is no obstacle too great to face with Him by our side.

Romans 8:38-39 "For I am sure that neither death nor life, nor angels nor rulers, nor things present nor things to come, nor powers, nor height nor depth, nor anything else in all creation, will be able to separate us from the love of God in Christ Jesus our Lord."

Today's Devotional
A Prayer of Praise for Worn Out Bibles - Your Daily Prayer - September 19I live in this book, with this book, and by this book. Like our verse in Hebrews says, God's word to me is "alive and active."
Top Artists