The Singing Contractors Perform 'Silent Night'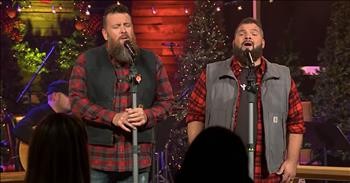 The talented duo of The Singing Contractors share a stunning rendition of the Christmas classic, 'Silent Night.' These powerful words remind us all of the incredible gift given to the world on the night of Jesus' birth.

'Silent night, holy night
All is calm, all is bright
'Round yon virgin Mother and Child
Holy infant so tender and mild
Sleep in heavenly peace
Sleep in heavenly peace'
Contractors Aaron Gray and Josh Arnett became overnight sensations back in 2015 when they posted a video of them singing 'How Great Thou Art' on a job site. After garnering millions of views online, The Singing Contractors signed with the legendary Gaither record label.
Now, they are ringing in the Christmas season with this performance of 'Silent Night.' Just listen as they beautifully belt out these beloved words of worship.
'Silent night, holy night!
Shepherds quake at the sight!
Glories stream from heaven afar;
Heavenly hosts sing Al-le-lu-ia!
Christ the Savior is born!
Christ the Savior is born!'
This Christmas, let us remember the real reason for the season. The birth of Jesus Christ paved the way for our path into Heaven.
Our Savior freed us from our sins and gave us everlasting last. What a beautiful gift to give thanks for each and every day!
Isaiah 9:6 "For to us a child is born, to us a son is given; and the government shall be upon his shoulder, and his name shall be called Wonderful Counselor, Mighty God, Everlasting Father, Prince of Peace."
godtube-christmas

1910 views

2019-12-02T23:55:16

source: Gaither Music TV The talented duo of The Singing Contractors share a stunning rendition of the Christmas classic, 'Silent Night.' These powerful words remind us all of the incredible gift given to the world on the night of Jesus' birth.

'Silent night, holy night
All is calm, all is bright
'Round yon virgin Mother and Child
Holy infant so tender and mild
Sleep in heavenly peace
Sleep in heavenly peace'

Contractors Aaron Gray and Josh Arnett became overnight sensations back in 2015 when they posted a video of them singing 'How Great Thou Art' on a job site. After garnering millions of views online, The Singing Contractors signed with the legendary Gaither record label.

Now, they are ringing in the Christmas season with this performance of 'Silent Night.' Just listen as they beautifully belt out these beloved words of worship.

'Silent night, holy night!
Shepherds quake at the sight!
Glories stream from heaven afar;
Heavenly hosts sing Al-le-lu-ia!
Christ the Savior is born!
Christ the Savior is born!'

This Christmas, let us remember the real reason for the season. The birth of Jesus Christ paved the way for our path into Heaven.

Our Savior freed us from our sins and gave us everlasting last. What a beautiful gift to give thanks for each and every day!

Isaiah 9:6 "For to us a child is born, to us a son is given; and the government shall be upon his shoulder, and his name shall be called Wonderful Counselor, Mighty God, Everlasting Father, Prince of Peace."

Today's Devotional
A Prayer to Kill the Sin of Gossip in Your Life - Your Daily Prayer - December 15
Top Artists