'Mary's Boy Child' GENTRI Christmas Song Featuring Rise Up Children's Choir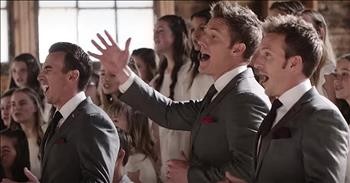 The talented men of GENTRI join forces with the Rise Up Children's Choir and Lyceum Phil for a rousing performance of 'Mary's Boy Child.'

This may be a lesser-known Christmas song but it does a beautiful job of reminding us of the impact of Jesus' birth.
"Long time ago in Bethlehem
So the Holy Bible say
Mary's boy child, Jesus Christ
Was born on Christmas day"
GENTRI was formed in 2014 by members Brad Robins, Casey Elliott and Bradley Quinn Lever. On their website, the group describes their unique sound as "a signature sound they call "Cinematic Pop," the music of GENTRI is transfused with lush, epic orchestrations and rich, dynamic three-part harmonies."
From original songs to talented covers, these men always delight the audience with their stunning performances.
Today, they are helping us all get in the Christmas spirit with this upbeat rendition of 'Mary's Boy Child.' With help from Rise Up Children's Choir and Lyceum Phil, these powerhouse vocalists sing of the wonders of our King.
"Hark, now hear the angels sing
A new King born today
And man will live forever more
Because of Christmas day"
Isaiah 9:6-7 "6 For to us a child is born, to us a son is given, and the government will be on his shoulders. And he will be called Wonderful Counselor, Mighty God, Everlasting Father, Prince of Peace. 7 Of the greatness of his government and peace there will be no end. He will reign on David's throne and over his kingdom, establishing and upholding it with justice and righteousness from that time on and forever. The zeal of the LORD Almighty will accomplish this."
godtube-christmas

4428 views

2019-11-25T10:48:48

source: GENTRI The talented men of GENTRI join forces with the Rise Up Children's Choir and Lyceum Phil for a rousing performance of 'Mary's Boy Child.'

This may be a lesser-known Christmas song but it does a beautiful job of reminding us of the impact of Jesus' birth.

"Long time ago in Bethlehem
So the Holy Bible say
Mary's boy child, Jesus Christ
Was born on Christmas day"

GENTRI was formed in 2014 by members Brad Robins, Casey Elliott and Bradley Quinn Lever. On their website, the group describes their unique sound as "a signature sound they call "Cinematic Pop," the music of GENTRI is transfused with lush, epic orchestrations and rich, dynamic three-part harmonies."

From original songs to talented covers, these men always delight the audience with their stunning performances.

Today, they are helping us all get in the Christmas spirit with this upbeat rendition of 'Mary's Boy Child.' With help from Rise Up Children's Choir and Lyceum Phil, these powerhouse vocalists sing of the wonders of our King.

"Hark, now hear the angels sing
A new King born today
And man will live forever more
Because of Christmas day"

Isaiah 9:6-7 "6 For to us a child is born, to us a son is given, and the government will be on his shoulders. And he will be called Wonderful Counselor, Mighty God, Everlasting Father, Prince of Peace. 7 Of the greatness of his government and peace there will be no end. He will reign on David's throne and over his kingdom, establishing and upholding it with justice and righteousness from that time on and forever. The zeal of the LORD Almighty will accomplish this."

Today's Devotional
A Prayer for Strength to Endure - Your Daily Prayer - May 29
Top Artists