Viral Teen Voice Sings 'Rescue' From Lauren Daigle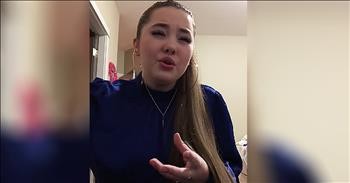 15-year-old Lauren Spencer-Smith belts out the powerful lyrics to Lauren Daigle's hit single, 'Rescue.'

This chart-climbing tune reminds us all that there is power in the Name of the Lord and He will always be there to give us strength and courage.
"There is no distance
That cannot be covered
Over and over
You're not defenseless
I'll be your shelter
I'll be your armor"
Lauren Spencer-Smith became a viral sensation when she posted a video on Facebook singing Lady Gaga's 'Always Remember Us This Way' from A Star Is Born. The video was filmed in her dad's van but it quickly amassed millions of views online and she became an overnight star.
With appearances on talk shows and a new fan following, Lauren is continuing to make music and share her gift with the world. Today, she is taking another Grammy award-winning Christian artist Lauren Daigle's latest single, 'Rescue.'
Just listen as she belts out these incredible lyrics about God's salvation for us all.
"I will send out an army to find you
In the middle of the darkest night
It's true, I will rescue you
I will never stop marching to reach you
In the middle of the hardest fight
It's true, I will rescue you"
We all need to hear these words and be reminded of God's strength every now and then. What a beautiful way to give praise!
Isaiah 12:2 ""Behold, God is my salvation; I will trust, and will not be afraid; for the LORD GOD is my strength and my song, and he has become my salvation."
GodTube-Music

2667 views

2020-01-06T13:41:58

source: Lauren Spencer-Smith 15-year-old Lauren Spencer-Smith belts out the powerful lyrics to Lauren Daigle's hit single, 'Rescue.'

This chart-climbing tune reminds us all that there is power in the Name of the Lord and He will always be there to give us strength and courage.

"There is no distance
That cannot be covered
Over and over
You're not defenseless
I'll be your shelter
I'll be your armor"

Lauren Spencer-Smith became a viral sensation when she posted a video on Facebook singing Lady Gaga's 'Always Remember Us This Way' from A Star Is Born. The video was filmed in her dad's van but it quickly amassed millions of views online and she became an overnight star.

With appearances on talk shows and a new fan following, Lauren is continuing to make music and share her gift with the world. Today, she is taking another Grammy award-winning Christian artist Lauren Daigle's latest single, 'Rescue.'

Just listen as she belts out these incredible lyrics about God's salvation for us all.

"I will send out an army to find you
In the middle of the darkest night
It's true, I will rescue you
I will never stop marching to reach you
In the middle of the hardest fight
It's true, I will rescue you"

We all need to hear these words and be reminded of God's strength every now and then. What a beautiful way to give praise!

Isaiah 12:2 ""Behold, God is my salvation; I will trust, and will not be afraid; for the LORD GOD is my strength and my song, and he has become my salvation."

Today's Devotional
A Prayer for When Others Have What You Want - Your Daily Prayer - February 23
Top Artists