Rousing Rendition Of 'Jesus Is Coming' From Voices Of Gaither Music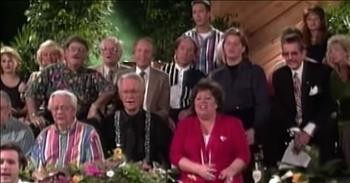 Be reminded that He is coming back again with this rousing throwback of 'Jesus Is Coming Soon' from our favorite Gaither Music voices. This upbeat hymn will have you toe-tapping along in no time with it's energetic beat and moving lyrics.

"Troublesome times are here, filling men's hearts with fear
Freedom we all hold dear now is at stake
Humbling your hearts to God saves from the chastening rod
Seek the way pilgrims trod, Christians awake"
Just like the lyrics state, we are living in a troublesome time. As our world constantly changes, it seems many hearts are turning away from the Lord.
During these times, it's so important to cling to His love and message as we fight through these dark moments. And have no fear, because Jesus will be coming back and He will arrive in a blaze of glory. Just listen to the powerful lyrics of 'Jesus Is Coming' as they proclaim our God's many triumphants.
"Jesus is coming soon, morning or night or noon
Many will meet their doom, trumpets will sound
All of the dead shall rise, righteous meet in the skies
Going where no one dies, heavenward bound:"
This worship song is the perfect way to let the world know that our King is on the way. Who else is joining in?
Revelation 1:7 "Behold, he is coming with the clouds, and every eye will see him, even those who pierced him, and all tribes of the earth will wail on account of him. Even so. Amen."
GodTube-Music

3443 views

2020-01-07T14:21:21

source: Gaither Music TV Be reminded that He is coming back again with this rousing throwback of 'Jesus Is Coming Soon' from our favorite Gaither Music voices. This upbeat hymn will have you toe-tapping along in no time with it's energetic beat and moving lyrics.

"Troublesome times are here, filling men's hearts with fear
Freedom we all hold dear now is at stake
Humbling your hearts to God saves from the chastening rod
Seek the way pilgrims trod, Christians awake"

Just like the lyrics state, we are living in a troublesome time. As our world constantly changes, it seems many hearts are turning away from the Lord.

During these times, it's so important to cling to His love and message as we fight through these dark moments. And have no fear, because Jesus will be coming back and He will arrive in a blaze of glory. Just listen to the powerful lyrics of 'Jesus Is Coming' as they proclaim our God's many triumphants.

"Jesus is coming soon, morning or night or noon
Many will meet their doom, trumpets will sound
All of the dead shall rise, righteous meet in the skies
Going where no one dies, heavenward bound:"

This worship song is the perfect way to let the world know that our King is on the way. Who else is joining in?

Revelation 1:7 "Behold, he is coming with the clouds, and every eye will see him, even those who pierced him, and all tribes of the earth will wail on account of him. Even so. Amen."

Today's Devotional
A Prayer for Quieting the Noise - Your Daily Prayer - August 8
Top Artists