'See A Victory' Living Room Praise From Elevation Worship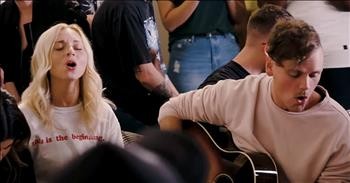 The talented voices of Elevation Worship praise the Lord with a living room rendition of 'See A Victory.' These words remind us that there is always hope and strength in the Name of the Lord.

"The weapon may be formed but it won't prosper
When the darkness falls it won't prevail
Cause the God I serve knows only how to triumph
My God will never fail"
Elevation Worship formed in 2007 at Elevation Church in Charlotte, North Carolina. Similar to other Christian bands like Hillsong UNITED, Elevation Worship started as the Sunday band and gradually transitioned to a worldwide audience.
Now, over a decade later, this incredible worship group continues to lead praise and spread God's message of love and hope. Today, they are all gathered in the living room for a special acoustic performance of 'See A Victory.'
As they belt out these powerful lyrics, you can feel the love and worship for the Lord radiate through the room.
"I'm gonna see a victory
For the battle belongs to You Lord"
There is truly no one like our God and music is the perfect way to give praise to His Name. Let us all join our voices and give Him all of our thanks for His many blessings.
James 1:2-4 "Count it all joy, my brothers, when you meet trials of various kinds, for you know that the testing of your faith produces steadfastness. And let steadfastness have its full effect, that you may be perfect and complete, lacking in nothing."
elevation-worship

2401 views

2020-01-14T14:13:33

source: Elevation Worship The talented voices of Elevation Worship praise the Lord with a living room rendition of 'See A Victory.' These words remind us that there is always hope and strength in the Name of the Lord.

"The weapon may be formed but it won't prosper
When the darkness falls it won't prevail
Cause the God I serve knows only how to triumph
My God will never fail"

Elevation Worship formed in 2007 at Elevation Church in Charlotte, North Carolina. Similar to other Christian bands like Hillsong UNITED, Elevation Worship started as the Sunday band and gradually transitioned to a worldwide audience.

Now, over a decade later, this incredible worship group continues to lead praise and spread God's message of love and hope. Today, they are all gathered in the living room for a special acoustic performance of 'See A Victory.'

As they belt out these powerful lyrics, you can feel the love and worship for the Lord radiate through the room.

"I'm gonna see a victory
For the battle belongs to You Lord"

There is truly no one like our God and music is the perfect way to give praise to His Name. Let us all join our voices and give Him all of our thanks for His many blessings.

James 1:2-4 "Count it all joy, my brothers, when you meet trials of various kinds, for you know that the testing of your faith produces steadfastness. And let steadfastness have its full effect, that you may be perfect and complete, lacking in nothing."

Today's Devotional
A Prayer of Praise for Worn Out Bibles - Your Daily Prayer - September 19I live in this book, with this book, and by this book. Like our verse in Hebrews says, God's word to me is "alive and active."
Top Artists