'Known' The Ball Brothers Cover Tauren Wells Hit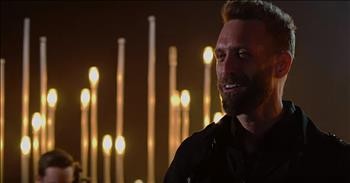 The Ball Brothers lead us in worship with a beautiful rendition of 'Known' by Tauren Wells. These words remind us that we are loved by the King of all kings.

'I'm fully known and loved by You
You won't let go no matter what I do
And it's not one or the other
It's hard truth and ridiculous grace
To be known fully known and loved by You
I'm fully known and loved by You'
Over the years, The Ball Brothers have covered countless worship songs. In fact, these 4 talented vocalists have garnered over 100 million video views online.
Together, they are leading the way in contemporary Christian music with their powerful covers and stunning original compositions. The Ball Brothers truly possess a unique sound that sets them apart from the rest. And it is so amazing to hear them use their talents to praise His name.
Today, they are belting out the words to 'Known' and it's absolutely stunning.
"How real, how wide
How rich, how high is Your heart
I cannot find the reasons why
You give me so much"
We are so blessed to serve a loving Father in Heaven. And these words are the perfect way to praise His Name.
1 Samuel 16:7 "But the LORD said to Samuel, "Do not look on his appearance or on the height of his stature, because I have rejected him. For the LORD sees not as man sees: man looks on the outward appearance, but the LORD looks on the heart."
tauren-wells

595 views

2020-03-31T15:45:43

source: Tauren Wells The Ball Brothers lead us in worship with a beautiful rendition of 'Known' by Tauren Wells. These words remind us that we are loved by the King of all kings.

'I'm fully known and loved by You
You won't let go no matter what I do
And it's not one or the other
It's hard truth and ridiculous grace
To be known fully known and loved by You
I'm fully known and loved by You'

Over the years, The Ball Brothers have covered countless worship songs. In fact, these 4 talented vocalists have garnered over 100 million video views online.

Together, they are leading the way in contemporary Christian music with their powerful covers and stunning original compositions. The Ball Brothers truly possess a unique sound that sets them apart from the rest. And it is so amazing to hear them use their talents to praise His name.

Today, they are belting out the words to 'Known' and it's absolutely stunning.

"How real, how wide
How rich, how high is Your heart
I cannot find the reasons why
You give me so much"

We are so blessed to serve a loving Father in Heaven. And these words are the perfect way to praise His Name.

1 Samuel 16:7 "But the LORD said to Samuel, "Do not look on his appearance or on the height of his stature, because I have rejected him. For the LORD sees not as man sees: man looks on the outward appearance, but the LORD looks on the heart."

Today's Devotional
A Prayer for God's Presence - Your Daily Prayer - May 28
Top Artists