Toddler Sings 'Jesus Loves Me' At Church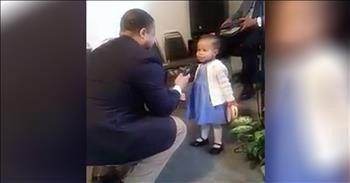 It was a heartwarming moment captured on camera when this toddler sings 'Jesus Loves Me' at church.

We all know that God took a little bit extra time when He created the children of the world. These beautiful little beings are truly a light in this complicated world.
Children have the ability to see the world through a completely different set of eyes than adults. They are full of innocence and wonder and they wear their heart on their sleeves. And there's nothing better than watching a young child sing their heart out for the Lord.
That's exactly what is happening for this little cutie at church and it has everyone on the Internet smiling.
"Jesus loves me this I know
For the bible tells me so
Little ones to Him belong
They are weak but He is strong"
'Jesus Loves Me' is one of the most iconic hymns of all time. We all know and love these words of praise for our King. The simple lyrics remind us all that Jesus loves us despite any of our sins or shortcomings.
What a beautiful blessing that is indeed. Who else is singing along with this sweet tot?
"Yes Jesus loves me
Yes Jesus loves me
Yes Jesus loves me
The bible tells me so"
Psalm 95:1-2 "Oh come, let us sing to the LORD; let us make a joyful noise to the rock of our salvation! Let us come into his presence with thanksgiving; let us make a joyful noise to him with songs of praise!"
kidsarecute

12835 views

2020-03-12T12:24:54

source: MarcusD It was a heartwarming moment captured on camera when this toddler sings 'Jesus Loves Me' at church.

We all know that God took a little bit extra time when He created the children of the world. These beautiful little beings are truly a light in this complicated world.

Children have the ability to see the world through a completely different set of eyes than adults. They are full of innocence and wonder and they wear their heart on their sleeves. And there's nothing better than watching a young child sing their heart out for the Lord.

That's exactly what is happening for this little cutie at church and it has everyone on the Internet smiling.

"Jesus loves me this I know
For the bible tells me so
Little ones to Him belong
They are weak but He is strong"

'Jesus Loves Me' is one of the most iconic hymns of all time. We all know and love these words of praise for our King. The simple lyrics remind us all that Jesus loves us despite any of our sins or shortcomings.

What a beautiful blessing that is indeed. Who else is singing along with this sweet tot?

"Yes Jesus loves me
Yes Jesus loves me
Yes Jesus loves me
The bible tells me so"

Psalm 95:1-2 "Oh come, let us sing to the LORD; let us make a joyful noise to the rock of our salvation! Let us come into his presence with thanksgiving; let us make a joyful noise to him with songs of praise!"

Today's Devotional
A Prayer for Strength to Endure - Your Daily Prayer - May 29
Top Artists