'The Blessing' Kari Jobe And Cody Carnes With Elevation Worship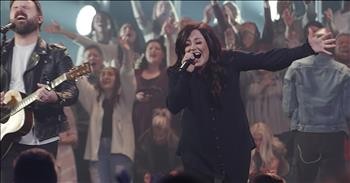 Christian couple Kari Jobe and Cody Carnes lead us in worship with 'The Blessing.' Live from Elevation Ballantyne, this song reminds us that the Lord gives us peace and strength each and every day.

"The Lord bless you
And keep you
Make His face shine upon you
And be gracious to you
The Lord turn His Face toward you
And give you peace"
Kari Jobe is a Grammy award-winning musician who has been a staple in the Christian music scene for over nearly two decades. She's given us hits such as 'Revelation Song' and 'The Garden.'
Her husband, Cody Carnes, is also a Christian artist. Besides his successful solo career, he helped write Kari's hit song 'Let The Heavens Open.'
There's no doubt that this couple has a God-given talent for leading worship and I'm so glad that they are using that gift to praise His Name. Just listen as they belt out the words to 'The Blessing.'
"In the morning
In the evening
In your coming
And your going
In your weeping
And rejoicing
He is for you
He is for you"
God is here for you no matter what. Even when we struggle and fall, the Lord is there to pick us back up and give us the strength to carry on. Let us sing these words out loud and give praise to His Name.
Joshua 1:9 "Have I not commanded you? Be strong and courageous. Do not be frightened, and do not be dismayed, for the LORD your God is with you wherever you go."
elevation-worship

3983 views

2020-03-10T13:17:46

source: Elevation Worship Christian couple Kari Jobe and Cody Carnes lead us in worship with 'The Blessing.' Live from Elevation Ballantyne, this song reminds us that the Lord gives us peace and strength each and every day.

"The Lord bless you
And keep you
Make His face shine upon you
And be gracious to you
The Lord turn His Face toward you
And give you peace"

Kari Jobe is a Grammy award-winning musician who has been a staple in the Christian music scene for over nearly two decades. She's given us hits such as 'Revelation Song' and 'The Garden.'

Her husband, Cody Carnes, is also a Christian artist. Besides his successful solo career, he helped write Kari's hit song 'Let The Heavens Open.'

There's no doubt that this couple has a God-given talent for leading worship and I'm so glad that they are using that gift to praise His Name. Just listen as they belt out the words to 'The Blessing.'

"In the morning
In the evening
In your coming
And your going
In your weeping
And rejoicing
He is for you
He is for you"

God is here for you no matter what. Even when we struggle and fall, the Lord is there to pick us back up and give us the strength to carry on. Let us sing these words out loud and give praise to His Name.

Joshua 1:9 "Have I not commanded you? Be strong and courageous. Do not be frightened, and do not be dismayed, for the LORD your God is with you wherever you go."

Today's Devotional
A Prayer of Praise for Worn Out Bibles - Your Daily Prayer - September 19I live in this book, with this book, and by this book. Like our verse in Hebrews says, God's word to me is "alive and active."
Top Artists