'See A Victory' Caleb And Kelsey Grimm Cover Elevation Worship Hit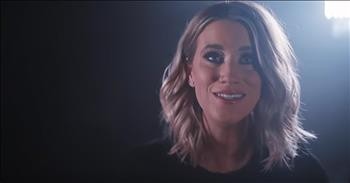 Husband and wife Caleb and Kelsey Grimm lead us in worship with a beautiful rendition of 'See A Victory' from Elevation Worship. These inspirational words remind us all that God is the source of our strength.

"The weapon may be formed but it won't prosper
When the darkness falls it won't prevail
Cause the God I serve knows only how to triumph
My God will never fail"
Elevation Worship formed in 2007 at Elevation Church in Charlotte, North Carolina. Similar to other Christian bands like Hillsong UNITED, Elevation Worship started as the Sunday band and gradually transitioned to a worldwide audience.
Today, the talented duo of Caleb + Kelsey are lending their voices to this beloved tune. Together, these two powerhouse voices have brought us brilliant worship covers and secular favorites such as 'Oceans (Where Feet May Fail)' and 'My Heart Will Go On.' And their performance of 'See A Victory' is the perfect way to praise His Name.
"I'm gonna see a victory
For the battle belongs to You Lord"
It's such a blessing to listen to this Christian couple lift up His Name in worship. Who else is joining in right now?
1 Peter 4:11 "If anyone speaks, they should do so as one who speaks the very words of God. If anyone serves, they should do so with the strength God provides, so that in all things God may be praised through Jesus Christ. To him be the glory and the power for ever and ever. Amen."
anthem-lights

2542 views

2020-03-16T14:54:48

source: Anthem Lights Husband and wife Caleb and Kelsey Grimm lead us in worship with a beautiful rendition of 'See A Victory' from Elevation Worship. These inspirational words remind us all that God is the source of our strength.

"The weapon may be formed but it won't prosper
When the darkness falls it won't prevail
Cause the God I serve knows only how to triumph
My God will never fail"

Elevation Worship formed in 2007 at Elevation Church in Charlotte, North Carolina. Similar to other Christian bands like Hillsong UNITED, Elevation Worship started as the Sunday band and gradually transitioned to a worldwide audience.

Today, the talented duo of Caleb + Kelsey are lending their voices to this beloved tune. Together, these two powerhouse voices have brought us brilliant worship covers and secular favorites such as 'Oceans (Where Feet May Fail)' and 'My Heart Will Go On.' And their performance of 'See A Victory' is the perfect way to praise His Name.

"I'm gonna see a victory
For the battle belongs to You Lord"

It's such a blessing to listen to this Christian couple lift up His Name in worship. Who else is joining in right now?

1 Peter 4:11 "If anyone speaks, they should do so as one who speaks the very words of God. If anyone serves, they should do so with the strength God provides, so that in all things God may be praised through Jesus Christ. To him be the glory and the power for ever and ever. Amen."

Today's Devotional
A Prayer for God's Presence - Your Daily Prayer - May 28
Top Artists