Jesus Opens the Way to God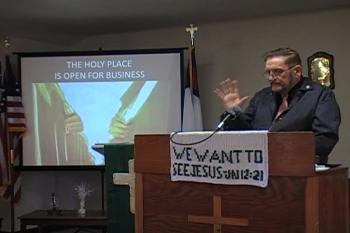 IF YOU ARE HAVING DIFFICULTY VIEWING/UPLOADING THIS VIDEO, CLICK HERE http://communitychristianchurch.sermon.net/

http://www.community-christian-church.com

http;//http://perrysperiodicals.blogspot.com

Matthew 18:3 "And he said: 'Truly I tell you, unless you change and become like little children, you will never enter the kingdom of heaven.'"

John 1:18 "No one has ever seen God, but the one and only Son, who is himself God and is in closest relationship with the Father, has made him known."

1 Corinthians 15:45 "So it is written: 'The first man Adam became a living being'; the last Adam, a life-giving spirit."
Suggested For You
---
Related Videos
---
Today's Devotional
A Prayer for Progress over Perfection - Your Daily Prayer - February 19
You can be obedient and make progress each day of your life, a little at a time. And God will help you as you seek Him.
Top Artists