Jesus Opens the Way to God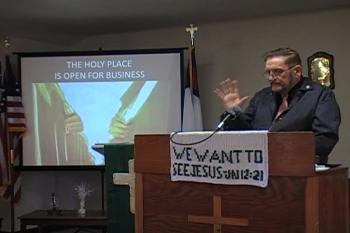 IF YOU ARE HAVING DIFFICULTY VIEWING/UPLOADING THIS VIDEO, CLICK HERE http://communitychristianchurch.sermon.net/

http://www.community-christian-church.com

http;//http://perrysperiodicals.blogspot.com

Matthew 18:3 "And he said: 'Truly I tell you, unless you change and become like little children, you will never enter the kingdom of heaven.'"

John 1:18 "No one has ever seen God, but the one and only Son, who is himself God and is in closest relationship with the Father, has made him known."

1 Corinthians 15:45 "So it is written: 'The first man Adam became a living being'; the last Adam, a life-giving spirit."
Suggested For You
---
Related Videos
---
Today's Devotional
A Prayer for Unity in Our Nation - Your Daily Prayer - July 4Dear God, We are needy of you. We're aware, more than ever, of our own weaknesses, and of the struggle with dark forces that try hard to divide us and gain more ground.
Top Artists