'No One But You' Live Performance From Hillsong Worship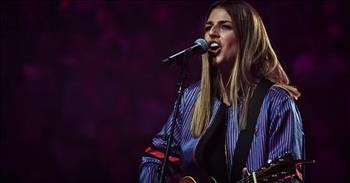 The anointed voices of Hillsong Worship perform a live rendition of their newest single, 'No One But You.' These words remind us all that there is truly no one as powerful and amazing as our Lord and Savior.

"Who has made the righteous bright
Who has paved my way with grace
Loved me through my darkest hours
A thousand different ways
No one but You
No one but You"
Hillsong Worship has been a leader in worship music since 1983. At first, they only performed at their home church, in Sydney, Australia. But as their music popularity grew, the group decided to share their talents with the entire world.
Their first album was released in 1988 and, now, Hillsong has become a name synonymous with Christian worship anthems. Over the years, these talented voices have given us hits such as 'Cornerstone' and 'What A Beautiful Name.'
It's been nearly two decades since Hillsong Worship has released a full studio album and 'No One But You' is the first dropped track. Just listen as the incredible voice of Brooke Ligertwood belts out these incredible lyrics.
"Hear the rocks cry out
See the mountains bow
Every heart come
Worship the Lord
No one no one
No one no one
No one Lord but You"
What a beautiful way to sing praises to His Name. Let us join our voices together to spread His message of love and hope to the world.
1 Samuel 2:2 ""There is no one holy like the LORD, Indeed, there is no one besides You, Nor is there any rock like our God."
hillsong-worship

2441 views

2019-09-17T13:01:02

source: Hillsong Worship The anointed voices of Hillsong Worship perform a live rendition of their newest single, 'No One But You.' These words remind us all that there is truly no one as powerful and amazing as our Lord and Savior.

"Who has made the righteous bright
Who has paved my way with grace
Loved me through my darkest hours
A thousand different ways
No one but You
No one but You"

Hillsong Worship has been a leader in worship music since 1983. At first, they only performed at their home church, in Sydney, Australia. But as their music popularity grew, the group decided to share their talents with the entire world.

Their first album was released in 1988 and, now, Hillsong has become a name synonymous with Christian worship anthems. Over the years, these talented voices have given us hits such as 'Cornerstone' and 'What A Beautiful Name.'

It's been nearly two decades since Hillsong Worship has released a full studio album and 'No One But You' is the first dropped track. Just listen as the incredible voice of Brooke Ligertwood belts out these incredible lyrics.

"Hear the rocks cry out
See the mountains bow
Every heart come
Worship the Lord
No one no one
No one no one
No one Lord but You"

What a beautiful way to sing praises to His Name. Let us join our voices together to spread His message of love and hope to the world.

1 Samuel 2:2 ""There is no one holy like the LORD, Indeed, there is no one besides You, Nor is there any rock like our God."

Today's Devotional
A Prayer for Strength to Endure - Your Daily Prayer - May 29
Top Artists