'Rescue Story' Zach Williams Performance At Red Rocks Amphitheatre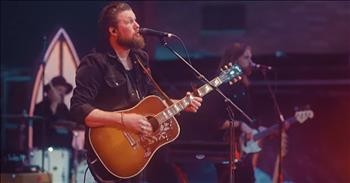 Christian artist Zach Williams shares a special performance of his single 'Rescue Story' at the famous Red Rocks Amphitheatre. This powerful song reminds us all that God will bring us out of our dark season and into the light.

"You were the voice in the desert
Calling me out in the dead of night
Fighting my battles for me
You are my rescue story
Lifted me up from the ashes
Carried my soul from death to life
Bringing me from glory to glory
You are my rescue story"
"When people share their own rescue story with others, it can hopefully bring someone else into a relationship with Jesus.""
Zach Williams rose to fame with his worship anthem, 'Chainbreaker.' Today, he's sharing a live performance 'Rescue Story', which details how God brought him from a place of darkness and gave him new life.
When speaking about the inspiration behind the song, Zach said, ""I found myself at the end of my rope almost seven years ago touring in a rock 'n' roll band. On the outside, everyone thought I was completely happy, but on the inside, I was a wreck and a miserable person. It wasn't until I found Jesus when I was truly happy and able to enjoy the things in life that I'm now doing." What an incredible reminder that God is always with us.
Ezekiel 34:11-12 "For thus says the Lord GOD: Behold, I, I myself will search for my sheep and will seek them out. As a shepherd seeks out his flock when he is among his sheep that have been scattered, so will I seek out my sheep, and I will rescue them from all places where they have been scattered on a day of clouds and thick darkness."
zach-williams

4360 views

2019-09-09T12:20:22

source: Zach Williams Christian artist Zach Williams shares a special performance of his single 'Rescue Story' at the famous Red Rocks Amphitheatre. This powerful song reminds us all that God will bring us out of our dark season and into the light.

"You were the voice in the desert
Calling me out in the dead of night
Fighting my battles for me
You are my rescue story
Lifted me up from the ashes
Carried my soul from death to life
Bringing me from glory to glory
You are my rescue story"
"When people share their own rescue story with others, it can hopefully bring someone else into a relationship with Jesus.""

Zach Williams rose to fame with his worship anthem, 'Chainbreaker.' Today, he's sharing a live performance 'Rescue Story', which details how God brought him from a place of darkness and gave him new life.

When speaking about the inspiration behind the song, Zach said, ""I found myself at the end of my rope almost seven years ago touring in a rock 'n' roll band. On the outside, everyone thought I was completely happy, but on the inside, I was a wreck and a miserable person. It wasn't until I found Jesus when I was truly happy and able to enjoy the things in life that I'm now doing." What an incredible reminder that God is always with us.

Ezekiel 34:11-12 "For thus says the Lord GOD: Behold, I, I myself will search for my sheep and will seek them out. As a shepherd seeks out his flock when he is among his sheep that have been scattered, so will I seek out my sheep, and I will rescue them from all places where they have been scattered on a day of clouds and thick darkness."

Today's Devotional
A Prayer to Help Your Kids Love God's Word - Your Daily Prayer - July 5
Top Artists