Angelina Jordan's Viral Crooner Voice Sings 'Moon River'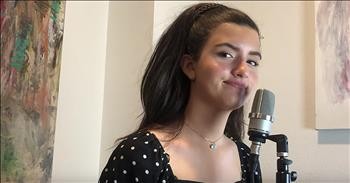 Angelina Jordan stuns her latest cover of the iconic song 'Moon River.' 13-year-old Angelina became an instant Internet star when she won Norway's Got Talent back in 2014. At the time of the show, she was just eight years old.

Her powerful voice and unbelievable performances racked up millions of views online and made her a household name. Angelina is best known for singing classic jazz tunes such as 'Fly Me To The Moon' and 'Summertime.' Elvis Presley and Frank Sinatra are some of her favorite artists to cover.
Since her victory, she has performed all over the world and continues to share her gift with others. Today, she is using her distinctive voice to belt out the classic words of 'Moon River.'
"Moon river, wider than a mile
I'm crossing you in style some day
Oh, dream maker, you heart breaker
Wherever you're going, I'm going your way"
This beloved song was originally performed by Audrey Hepburn for her film, 'Breakfast At Tiffany's.' 'Moon River' went on to win the Academy Award for Best Original Song and the 1962 Grammy Awards for Record of the Year and Song of the Year.
It was later recorded by Andy Williams, who would famously sing the song at the beginning of his television show. Now, young Angelina is putting her own spin on the tune and it is absolutely stunning.
Time and time again, this talented vocalist reminds us why she won Norway's Got Talent all those years ago. What did you think of this smooth crooner and her rendition of 'Moon River?'
godtube-inspiration

2180 views

2019-09-09T09:44:16

source: Angelina Jordan CoverChannel Angelina Jordan stuns her latest cover of the iconic song 'Moon River.' 13-year-old Angelina became an instant Internet star when she won Norway's Got Talent back in 2014. At the time of the show, she was just eight years old.

Her powerful voice and unbelievable performances racked up millions of views online and made her a household name. Angelina is best known for singing classic jazz tunes such as 'Fly Me To The Moon' and 'Summertime.' Elvis Presley and Frank Sinatra are some of her favorite artists to cover.

Since her victory, she has performed all over the world and continues to share her gift with others. Today, she is using her distinctive voice to belt out the classic words of 'Moon River.'

"Moon river, wider than a mile
I'm crossing you in style some day
Oh, dream maker, you heart breaker
Wherever you're going, I'm going your way"

This beloved song was originally performed by Audrey Hepburn for her film, 'Breakfast At Tiffany's.' 'Moon River' went on to win the Academy Award for Best Original Song and the 1962 Grammy Awards for Record of the Year and Song of the Year.

It was later recorded by Andy Williams, who would famously sing the song at the beginning of his television show. Now, young Angelina is putting her own spin on the tune and it is absolutely stunning.

Time and time again, this talented vocalist reminds us why she won Norway's Got Talent all those years ago. What did you think of this smooth crooner and her rendition of 'Moon River?'

Today's Devotional
A Prayer for Quieting the Noise - Your Daily Prayer - August 8
Top Artists