Christian Couple Sing 'Tis So Sweet To Trust In Jesus' Classic Hymn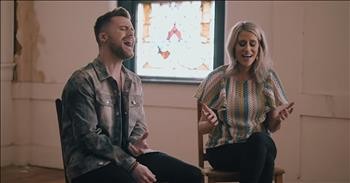 Husband and wife Caleb + Kelsey perform a beautiful rendition of the classic hymn 'Tis So Sweet To Trust In Jesus.' This classic song reminds of the joy that can be found by having faith in Jesus Christ.

"'Tis so sweet to trust in Jesus,
Just to take Him at His Word
Just to rest upon His promise,
Just to know, "Thus saith the Lord!"
The author of this hymn, Louisa M. R. Stead, experienced the terrible loss of her husband when he died attempting to save a young boy from drowning. Despite the devastation, Louisa found resolution in her relationship with God. Through the creation of this hymn, she helped many people deal with similar tragedy in their own life by encouraging them to trust in Jesus. Today, the talented Christian duo of Caleb and Kelsey Grimm are lending their voice to this timeless hymn.
"Jesus, Jesus, how I trust Him!
How I've proved Him o'er and o'er
Jesus, Jesus, precious Jesus!
Oh, for grace to trust Him more!"
Caleb and Kelsey always have a perfect way of blending their voices together in beautiful praise for our Lord. They truly use their God-given talent for singing to glorify His name. And there's nothing better than hearing these talented vocalists sing a classic hymn like 'Tis So Sweet.' Don't you agree?
Joshua 1:9 "Have I not commanded you? Be strong and courageous. Do not be frightened, and do not be dismayed, for the Lord your God is with you wherever you go."
anthem-lights

1384 views

2019-04-18T11:29:14

source: Anthem Lights Husband and wife Caleb + Kelsey perform a beautiful rendition of the classic hymn 'Tis So Sweet To Trust In Jesus.' This classic song reminds of the joy that can be found by having faith in Jesus Christ.

"'Tis so sweet to trust in Jesus,
Just to take Him at His Word
Just to rest upon His promise,
Just to know, "Thus saith the Lord!"

The author of this hymn, Louisa M. R. Stead, experienced the terrible loss of her husband when he died attempting to save a young boy from drowning. Despite the devastation, Louisa found resolution in her relationship with God. Through the creation of this hymn, she helped many people deal with similar tragedy in their own life by encouraging them to trust in Jesus. Today, the talented Christian duo of Caleb and Kelsey Grimm are lending their voice to this timeless hymn.

"Jesus, Jesus, how I trust Him!
How I've proved Him o'er and o'er
Jesus, Jesus, precious Jesus!
Oh, for grace to trust Him more!"

Caleb and Kelsey always have a perfect way of blending their voices together in beautiful praise for our Lord. They truly use their God-given talent for singing to glorify His name. And there's nothing better than hearing these talented vocalists sing a classic hymn like 'Tis So Sweet.' Don't you agree?

Joshua 1:9 "Have I not commanded you? Be strong and courageous. Do not be frightened, and do not be dismayed, for the Lord your God is with you wherever you go."
Today's Devotional
A Prayer for When You Don't Feel Like Praising God - Your Daily Prayer - May 25
Top Artists