Classic Hymn Medley From Christian Couple Caleb + Kelsey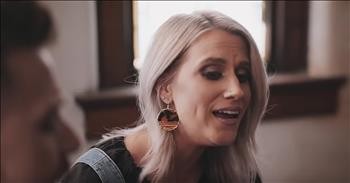 Christian couple Caleb and Kelsey share an incredible classic hymn medley.

This beautiful performance includes "Amazing Grace", "Great Is Thy Faithfulness", "Be Thou My Vision" and more.
""Great is Thy faithfulness!" "Great is Thy faithfulness!"
Morning by morning new mercies I see;
All I have needed Thy hand hath provided—
"Great is Thy faithfulness," Lord, unto me!"
This married couple has an incredible way of taking these classic songs and turning them into unique and amazing arrangements that you have to listen to more than once.
I just love how their voices blend together to produce such a beautiful sound that glorifies God. One of my favorite moments is when they harmonize the iconic lyrics of 'Amazing Grace.'
"Amazing Grace, How sweet the sound
That saved a wretch like me
I once was lost, but now am found
T'was blind but now I see"
This hymn medley is the perfect way to give praise to His name and I love that Caleb + Kelsey are sharing this arrangement with the world. Let every nation know of His many blessings!
1 Chronicles 16:23-31 "23 Sing to the LORD, all the earth; proclaim his salvation day after day.
24 Declare his glory among the nations, his marvelous deeds among all peoples.
25 For great is the LORD and most worthy of praise; he is to be feared above all gods.
26 For all the gods of the nations are idols, but the LORD made the heavens.
27 Splendor and majesty are before him; strength and joy are in his dwelling place.
28 Ascribe to the LORD, all you families of nations, ascribe to the LORD glory and strength.
29 Ascribe to the LORD the glory due his name; bring an offering and come before him. Worship the LORD in the splendor of his holiness.
30 Tremble before him, all the earth! The world is firmly established; it cannot be moved.
31 Let the heavens rejoice, let the earth be glad; let them say among the nations, "The LORD reigns!"
anthem-lights

3087 views

2019-04-15T10:21:07

source: Anthem Lights Christian couple Caleb and Kelsey share an incredible classic hymn medley.

This beautiful performance includes "Amazing Grace", "Great Is Thy Faithfulness", "Be Thou My Vision" and more.

""Great is Thy faithfulness!" "Great is Thy faithfulness!"
Morning by morning new mercies I see;
All I have needed Thy hand hath provided—
"Great is Thy faithfulness," Lord, unto me!"

This married couple has an incredible way of taking these classic songs and turning them into unique and amazing arrangements that you have to listen to more than once.

I just love how their voices blend together to produce such a beautiful sound that glorifies God. One of my favorite moments is when they harmonize the iconic lyrics of 'Amazing Grace.'

"Amazing Grace, How sweet the sound
That saved a wretch like me
I once was lost, but now am found
T'was blind but now I see"

This hymn medley is the perfect way to give praise to His name and I love that Caleb + Kelsey are sharing this arrangement with the world. Let every nation know of His many blessings!

1 Chronicles 16:23-31 "23 Sing to the LORD, all the earth; proclaim his salvation day after day.

24 Declare his glory among the nations, his marvelous deeds among all peoples.

25 For great is the LORD and most worthy of praise; he is to be feared above all gods.

26 For all the gods of the nations are idols, but the LORD made the heavens.

27 Splendor and majesty are before him; strength and joy are in his dwelling place.

28 Ascribe to the LORD, all you families of nations, ascribe to the LORD glory and strength.

29 Ascribe to the LORD the glory due his name; bring an offering and come before him. Worship the LORD in the splendor of his holiness.

30 Tremble before him, all the earth! The world is firmly established; it cannot be moved.

31 Let the heavens rejoice, let the earth be glad; let them say among the nations, "The LORD reigns!"
Today's Devotional
A Prayer for Your Aging Parent - Your Daily Prayer - October 19
Top Artists