'Speak To Me' For All Seasons Official Video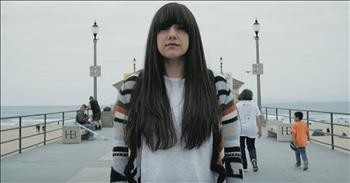 Christian band For All Seasons shares the official music video for their latest single, 'Speak To Me.' These lyrics reminds us that when times get dark, God is always right by our side.

"Feels like I'm drowning in all this noise
So much confusion that I can't avoid
I need to hear You, I need to hear Your voice
So disconnected, where is my joy?
So whether whispers in the calming of the wind
Or in the distant roar of thunder rolling in
Speak to me"
For All Seasons is comprised of Emily Hamilton, Johnny Hamilton, and Jeff Luckey. Together, this talented trio shares God's message of hope and love through their talented worship music. 'Speak To Me' touches on the topic of fear and turbulent times in our lives. Sometimes, we can let the worries of the world take over our minds. During these times, it is so important to remember that God will stand beside us and lift us up when we are too weak to stand.
"Fear is an army that I can't outrun
All my defenses have come undone
Oh I need to feel You, I need to feel You close
Will Your love find me when I need it most?
Speak to me"
Let God into your heart and open your ears to hear His words of wisdom and guidance. This is such a beautiful song of hope that truly resonates with hearts all over the world.
Romans 8:38-39 "For I am sure that neither death nor life, nor angels nor rulers, nor things present nor things to come, nor powers, nor height nor depth, nor anything else in all creation, will be able to separate us from the love of God in Christ Jesus our Lord."
GodTube-Music

4594 views

2019-06-10T15:13:26

source: For All Seasons Christian band For All Seasons shares the official music video for their latest single, 'Speak To Me.' These lyrics reminds us that when times get dark, God is always right by our side.

"Feels like I'm drowning in all this noise
So much confusion that I can't avoid
I need to hear You, I need to hear Your voice
So disconnected, where is my joy?
So whether whispers in the calming of the wind
Or in the distant roar of thunder rolling in
Speak to me"

For All Seasons is comprised of Emily Hamilton, Johnny Hamilton, and Jeff Luckey. Together, this talented trio shares God's message of hope and love through their talented worship music. 'Speak To Me' touches on the topic of fear and turbulent times in our lives. Sometimes, we can let the worries of the world take over our minds. During these times, it is so important to remember that God will stand beside us and lift us up when we are too weak to stand.

"Fear is an army that I can't outrun
All my defenses have come undone
Oh I need to feel You, I need to feel You close
Will Your love find me when I need it most?
Speak to me"

Let God into your heart and open your ears to hear His words of wisdom and guidance. This is such a beautiful song of hope that truly resonates with hearts all over the world.

Romans 8:38-39 "For I am sure that neither death nor life, nor angels nor rulers, nor things present nor things to come, nor powers, nor height nor depth, nor anything else in all creation, will be able to separate us from the love of God in Christ Jesus our Lord."

Today's Devotional
A Prayer for When Time Doesn't Heal a Broken Heart - Your Daily Prayer - July 2
Top Artists