'Do You Know You Are My Sunshine' The Booth Brothers With Bill Gaither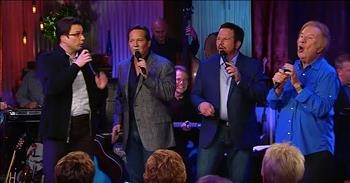 The Booth Brothers perform a rousing rendition of 'Do You Know You Are My Sunshine' with special guest Bill Gaither. This song was an instant hit for The Statler Brothers after it's release in 1978.

"She was standin' in the crowd
All alone and lookin' pretty
Listenin' to the music that we played
She walked up and whispered
I leaned down and listened
To the request that she made"
Today, The Booth Brothers are lending their voice to this classic tune and they are joined by another iconic voice, Bill Gaither. The Booth Brothers are a southern gospel ensemble that started in the 1950s.
The group was formed by Ron Booth, Sr and his brothers Charles, James, and Wallace. They performed together for many years before disbanding in 1963. But then, in 1990, Ron's youngest son, Michael, decided to revive the group with his father and brother, Ronnie.
Over the years, the group has had some member changes but the core values always remain the same. Now, Michael, Ronnie and Paul Lancaster are at the Gaither Studios for this incredible live performance.
"(Do you know), Do you know you are my sunshine
She asked so sweet and tenderly
(Do you know), Do you know you are my sunshine
And would you do it one more time for me"
What a perfect dose of nostalgia from this talented southern trio. You can find this song and other gospel favorites on The Booth Brothers' newest CD/DVD, "Country Roads: Country and Inspirational Favorites."
the-booth-brothers

1851 views

2019-08-30T11:23:50

source: Bill and Gloria Gaither The Booth Brothers perform a rousing rendition of 'Do You Know You Are My Sunshine' with special guest Bill Gaither. This song was an instant hit for The Statler Brothers after it's release in 1978.

"She was standin' in the crowd
All alone and lookin' pretty
Listenin' to the music that we played
She walked up and whispered
I leaned down and listened
To the request that she made"

Today, The Booth Brothers are lending their voice to this classic tune and they are joined by another iconic voice, Bill Gaither. The Booth Brothers are a southern gospel ensemble that started in the 1950s.

The group was formed by Ron Booth, Sr and his brothers Charles, James, and Wallace. They performed together for many years before disbanding in 1963. But then, in 1990, Ron's youngest son, Michael, decided to revive the group with his father and brother, Ronnie.

Over the years, the group has had some member changes but the core values always remain the same. Now, Michael, Ronnie and Paul Lancaster are at the Gaither Studios for this incredible live performance.

"(Do you know), Do you know you are my sunshine
She asked so sweet and tenderly
(Do you know), Do you know you are my sunshine
And would you do it one more time for me"

What a perfect dose of nostalgia from this talented southern trio. You can find this song and other gospel favorites on The Booth Brothers' newest CD/DVD, "Country Roads: Country and Inspirational Favorites."

Today's Devotional
A Prayer for a Strong Marriage - Your Daily Prayer - August 9
Top Artists