'Breakthrough' Chris McClarney Acoustic Performance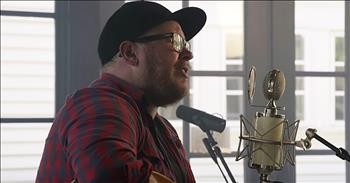 Christian artist Chris McClarney shares an incredible acoustic performance of his song, 'Breakthrough.' These touching lyrics truly remind us all that God is our source of light and strength.

When we trust in Him, there is nothing that can stand in our way.
"Take me from where I've been
Into something new
I'm giving up control
I need a breakthrough
All of my dreams and fears
Are crashing into You
You're waking up my hope
You are my breakthrough"
39-year-old Chris McClarney grew up in the church. His father was a youth minister, so gospel music has always been a big part of his life. In 2006, Chris released his debut album 'Love Never Fails.' He co-wrote the title track, which received worldwide attention after it was recorded by the Newsboys.
Today, Chris is at the famed New Song Café for an acoustic rendition of his single, 'Breakthrough.' We also learn the story behind these special lyrics and how to play the song on our own at home.
Chris is definitely making a name for himself in the Christian music scene and there seems to be no slowing down. With worship music like this, it's no wonder he is receiving more and more attention. Who else is looking forward to what this contemporary Christian artist does next?
1 Peter 1:3 " Praise be to the God and Father of our Lord Jesus Christ! In his great mercy he has given us new birth into a living hope through the resurrection of Jesus Christ from the dead."
GodTube-Music

1862 views

2019-08-16T15:00:45

source: Worship Together Christian artist Chris McClarney shares an incredible acoustic performance of his song, 'Breakthrough.' These touching lyrics truly remind us all that God is our source of light and strength.

When we trust in Him, there is nothing that can stand in our way.

"Take me from where I've been
Into something new
I'm giving up control
I need a breakthrough
All of my dreams and fears
Are crashing into You
You're waking up my hope
You are my breakthrough"

39-year-old Chris McClarney grew up in the church. His father was a youth minister, so gospel music has always been a big part of his life. In 2006, Chris released his debut album 'Love Never Fails.' He co-wrote the title track, which received worldwide attention after it was recorded by the Newsboys.

Today, Chris is at the famed New Song Café for an acoustic rendition of his single, 'Breakthrough.' We also learn the story behind these special lyrics and how to play the song on our own at home.

Chris is definitely making a name for himself in the Christian music scene and there seems to be no slowing down. With worship music like this, it's no wonder he is receiving more and more attention. Who else is looking forward to what this contemporary Christian artist does next?

1 Peter 1:3 " Praise be to the God and Father of our Lord Jesus Christ! In his great mercy he has given us new birth into a living hope through the resurrection of Jesus Christ from the dead."

Today's Devotional
A Prayer for Loved Ones Who Are Far from God - Your Daily Prayer - September 22
Top Artists