'It Is No Secret' Jimmy Fortune Live Performance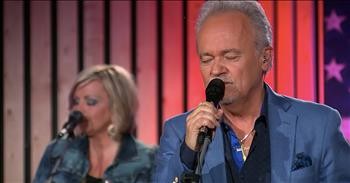 Talented Christian musician Jimmy Fortune performs an incredible live rendition of 'It Is No Secret.' These words of praise remind us all of the power and glory that comes from our Lord and Savior.

"It is no secret what God can do
What He's done for others He'll do for you
With arms wide open He'll (pardon you)
It is no secret what God can do"
Jimmy Fortune has been a staple in the country music scene for decades. He started as a member of The Statler Brothers and toured with them for over 20 years.
After his retirement from the band, he embarked on a successful solo career that included a hit gospel album. Now, he's teamed up with the world-renowed Gaither Studios for an amazing live performance of the classic gospel song 'It Is No Secret.'
"There is no night for (in) His light you'll never walk alone
Always feel at home wherever you may roam
There is no power can conquer you while God is on your side
Just take Him at His promise don't run away and hide"
When we walk with the Lord, there is truly nothing that can stand in our way. God can take us to greater heights and give us the strength to carry on when we have none. This song is the perfect way to give praise to His Name.
Colossians 1:16 "For by him all things were created, in heaven and on earth, visible and invisible, whether thrones or dominions or rulers or authorities—all things were created through him and for him."
GodTube-Music

1153 views

2019-10-30T16:39:00

source: Gaither Music TV Talented Christian musician Jimmy Fortune performs an incredible live rendition of 'It Is No Secret.' These words of praise remind us all of the power and glory that comes from our Lord and Savior.

"It is no secret what God can do
What He's done for others He'll do for you
With arms wide open He'll (pardon you)
It is no secret what God can do"

Jimmy Fortune has been a staple in the country music scene for decades. He started as a member of The Statler Brothers and toured with them for over 20 years.

After his retirement from the band, he embarked on a successful solo career that included a hit gospel album. Now, he's teamed up with the world-renowed Gaither Studios for an amazing live performance of the classic gospel song 'It Is No Secret.'

"There is no night for (in) His light you'll never walk alone
Always feel at home wherever you may roam
There is no power can conquer you while God is on your side
Just take Him at His promise don't run away and hide"

When we walk with the Lord, there is truly nothing that can stand in our way. God can take us to greater heights and give us the strength to carry on when we have none. This song is the perfect way to give praise to His Name.

Colossians 1:16 "For by him all things were created, in heaven and on earth, visible and invisible, whether thrones or dominions or rulers or authorities—all things were created through him and for him."

Today's Devotional
A Prayer to Keep it Together When Your Life is Falling Apart - Your Daily Prayer - November 15
Top Artists