Andrea Bocelli And Ellie Goulding Share The Making Of 'Return To Love'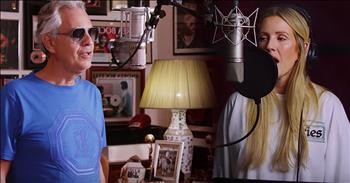 Legendary performer Andrea Bocelli shares an inside look at the making of his latest single, 'Return To Love' featuring Ellie Goulding.

For decades, Andrea has been showcasing his incredible vocals with songs such as 'The Prayer' and 'Time To Say Goodbye.' Ellie Goulding is a popular British Singer with hits such as 'Love Me Like You Do.'
Together, these two artists share a powerful duet with these touching lyrics.
"Who cares about the past
Who knows about tomorrow
L'amore è adesso
And maybe this won't last
Maybe this moment's
All we have
Let's find out"
This special behind-the-scenes features gives us a look at the creation of the song from the initial writing to the finished product. While looking for a duet partner, Andrea was certain of his choice. "Ellie Goulding is the perfect singer for this track. She has a beautiful voice and I liked it right away." And Ellie was beyond ecstatic to receive this incredible offer.
She said, "I was extremely happy and honored to be asked. He's incredibly gifted. He's a legend. He's so talented and has one of the most beautiful voices in the world." Just listen as their voices blend together to create an amazing sound for 'Return To Love.'
"I'll return to love
And risk it all
To see the world
That we make
I'll return to love
And take the fall
As if my heart cannot break
One more time"
It's absolutely fascinating to watch this song come to life right in front of our eyes. And Andrea has high hopes for this special tune. "My wish for this song is that it will give pleasant feelings to those who will listen to it."
andrea-bocelli

972 views

2019-11-05T11:45:22

source: Andrea Bocelli Legendary performer Andrea Bocelli shares an inside look at the making of his latest single, 'Return To Love' featuring Ellie Goulding.

For decades, Andrea has been showcasing his incredible vocals with songs such as 'The Prayer' and 'Time To Say Goodbye.' Ellie Goulding is a popular British Singer with hits such as 'Love Me Like You Do.'

Together, these two artists share a powerful duet with these touching lyrics.

"Who cares about the past
Who knows about tomorrow
L'amore è adesso
And maybe this won't last
Maybe this moment's
All we have
Let's find out"

This special behind-the-scenes features gives us a look at the creation of the song from the initial writing to the finished product. While looking for a duet partner, Andrea was certain of his choice. "Ellie Goulding is the perfect singer for this track. She has a beautiful voice and I liked it right away." And Ellie was beyond ecstatic to receive this incredible offer.

She said, "I was extremely happy and honored to be asked. He's incredibly gifted. He's a legend. He's so talented and has one of the most beautiful voices in the world." Just listen as their voices blend together to create an amazing sound for 'Return To Love.'

"I'll return to love
And risk it all
To see the world
That we make
I'll return to love
And take the fall
As if my heart cannot break
One more time"

It's absolutely fascinating to watch this song come to life right in front of our eyes. And Andrea has high hopes for this special tune. "My wish for this song is that it will give pleasant feelings to those who will listen to it."

Suggested For You
---
Related Videos
---
Today's Devotional
A Prayer to Kill the Sin of Gossip in Your Life - Your Daily Prayer - December 15
Top Artists