'He Touched Me' The Gaither Vocal Band Reunion Performance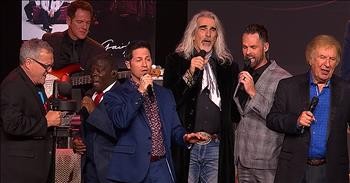 Past and present members of The Gaither Vocal Band come together for a reunion performance for 'He Touched Me.' Bill Gaither wrote this classic gospel song in 1963.

Today, these incredible voices are belting out the lyrics that remind us of the power and grace that comes from Jesus Christ.
"Shackled by a heavy burden
'Neath a load of guilt and shame
Then the hand of Jesus touched me
And now I am no longer the same."
The Gaither Vocal Band has been a staple in the Christian music scene since 1981. Bill Gaither, who is still a current member, founded this popular all-male southern gospel ensemble. Over the years, the members have changed but the mission of the group to share God's message still remains.
Today, current and former members of the iconic group are all on one stage for this amazing performance of 'He Touched Me.'
"He touched, oh, he touched me
And oh the joy that floods my soul!
Something happened, and now I know
He touched me, and made me whole."
There's no doubt that these men were blessed with a God-given talent to perform. And I'm so glad that they're using their gifts to give glory to His Name. What a beautiful way to praise our God!
Psalm 103:2-4 "Bless the LORD, O my soul, and forget not all his benefits, who forgives all your iniquity, who heals all your diseases, who redeems your life from the pit, who crowns you with steadfast love and mercy."
gaither-vocal-band

12382 views

2019-11-05T15:48:04

source: Gaither Vocal Band Past and present members of The Gaither Vocal Band come together for a reunion performance for 'He Touched Me.' Bill Gaither wrote this classic gospel song in 1963.

Today, these incredible voices are belting out the lyrics that remind us of the power and grace that comes from Jesus Christ.

"Shackled by a heavy burden
'Neath a load of guilt and shame
Then the hand of Jesus touched me
And now I am no longer the same."

The Gaither Vocal Band has been a staple in the Christian music scene since 1981. Bill Gaither, who is still a current member, founded this popular all-male southern gospel ensemble. Over the years, the members have changed but the mission of the group to share God's message still remains.

Today, current and former members of the iconic group are all on one stage for this amazing performance of 'He Touched Me.'

"He touched, oh, he touched me
And oh the joy that floods my soul!
Something happened, and now I know
He touched me, and made me whole."

There's no doubt that these men were blessed with a God-given talent to perform. And I'm so glad that they're using their gifts to give glory to His Name. What a beautiful way to praise our God!

Psalm 103:2-4 "Bless the LORD, O my soul, and forget not all his benefits, who forgives all your iniquity, who heals all your diseases, who redeems your life from the pit, who crowns you with steadfast love and mercy."

Today's Devotional
A Prayer to Help Your Kids Love God's Word - Your Daily Prayer - July 5
Top Artists