'Now Is Forever' Gaither Vocal Band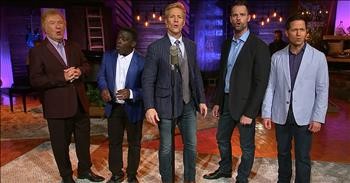 The talented voices of The Gaither Vocal Band perform a live rendition of 'Now Is Forever.' These poignant lyrics remind us all that God loves us forever, despite our shortcomings and sin.

"Now is forever, forever starts here
My treasure in heaven is what I hold dear
The things that I value will show in the mirror
For now is forever, forever starts here"
This popular all-male southern ensemble has been sharing their gospel music for decades. The band name comes from the founder and leader, Bill Gaither, who has written countless hymns and worship favorites.
Since 1981, this group has performed hundreds of beloved worship tunes and beautiful original songs all over the world. Now, they are using their God-given talents to share His message of love and grace. And this performance of 'Now Is Forever' will ignite your fire for the Lord.
"God's will for tomorrow may seem vague and grand
But it's built of the moments I hold in my hand
The kingdom of heaven, I see wide awake
I'm building forever with choices I make"
God loves us no matter what and He will always be there with His arms wide open. What a blessing to hear these talented men lead praise to His Name. Who else is going in?
Hebrews 4:12 "For the word of God is living and active, sharper than any two-edged sword, piercing to the division of soul and of spirit, of joints and of marrow, and discerning the thoughts and intentions of the heart."
gaither-vocal-band

5070 views

2019-11-07T15:18:21

source: Gaither Vocal Band The talented voices of The Gaither Vocal Band perform a live rendition of 'Now Is Forever.' These poignant lyrics remind us all that God loves us forever, despite our shortcomings and sin.

"Now is forever, forever starts here
My treasure in heaven is what I hold dear
The things that I value will show in the mirror
For now is forever, forever starts here"

This popular all-male southern ensemble has been sharing their gospel music for decades. The band name comes from the founder and leader, Bill Gaither, who has written countless hymns and worship favorites.

Since 1981, this group has performed hundreds of beloved worship tunes and beautiful original songs all over the world. Now, they are using their God-given talents to share His message of love and grace. And this performance of 'Now Is Forever' will ignite your fire for the Lord.

"God's will for tomorrow may seem vague and grand
But it's built of the moments I hold in my hand
The kingdom of heaven, I see wide awake
I'm building forever with choices I make"

God loves us no matter what and He will always be there with His arms wide open. What a blessing to hear these talented men lead praise to His Name. Who else is going in?

Hebrews 4:12 "For the word of God is living and active, sharper than any two-edged sword, piercing to the division of soul and of spirit, of joints and of marrow, and discerning the thoughts and intentions of the heart."

Today's Devotional
A Prayer to Overcome Evil - Your Daily Prayer - February 20
Top Artists