Turkey And Dog Share An Unlikely Friendship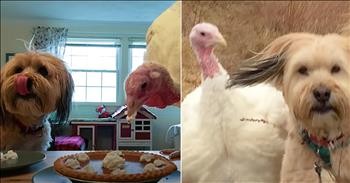 This turkey and dog share an unlikely friendship and it's absolutely heartwarming. Blossom was just 5 weeks old when she was rescued. This turkey was brought into the shelter and immediately acted uneasy. That's when Abbie Hubbard decided to bring Blossom home with her, in hopes of making her feel comfortable. As soon as this baby turkey spotted the dog bed on the floor, she hopped on and made herself at home. The bed belonged to Abbie's dog, Minnow.

At first, she wasn't sure how Minnow would react to the new visitor but it was soon clear that the dog had taken a shine to Blossom. "Blossom would follow Minnow around, snuggle up to her, and they just kind of became best of buddies." But Abbie thought that the turkey should live on a farm with other turkey friends. After taking her to a sanctuary, it was obvious that Blossom was unhappy. She would stand in the same place for hours and looked sad and depressed. That's when Abbie made the decision to take Blossom in for good.
Now, this unlikely duo can continue their cuddle sessions and outdoor walks together. I'm so glad that this kind woman decided to keep both of these adorable friends. And now, Minnow and Blossom are becoming an Internet sensation. You can be sure that they will always have each other's backs. Aren't all of God's creatures amazing?
Genesis 1:21 "So God created the great creatures of the sea and every living thing with which the water teems and that moves about in it, according to their kinds, and every winged bird according to its kind. And God saw that it was good."
godtube-animals

1149 views

2019-03-06T15:50:58

source: The Dodo This turkey and dog share an unlikely friendship and it's absolutely heartwarming. Blossom was just 5 weeks old when she was rescued. This turkey was brought into the shelter and immediately acted uneasy. That's when Abbie Hubbard decided to bring Blossom home with her, in hopes of making her feel comfortable. As soon as this baby turkey spotted the dog bed on the floor, she hopped on and made herself at home. The bed belonged to Abbie's dog, Minnow.

At first, she wasn't sure how Minnow would react to the new visitor but it was soon clear that the dog had taken a shine to Blossom. "Blossom would follow Minnow around, snuggle up to her, and they just kind of became best of buddies." But Abbie thought that the turkey should live on a farm with other turkey friends. After taking her to a sanctuary, it was obvious that Blossom was unhappy. She would stand in the same place for hours and looked sad and depressed. That's when Abbie made the decision to take Blossom in for good.

Now, this unlikely duo can continue their cuddle sessions and outdoor walks together. I'm so glad that this kind woman decided to keep both of these adorable friends. And now, Minnow and Blossom are becoming an Internet sensation. You can be sure that they will always have each other's backs. Aren't all of God's creatures amazing?

Genesis 1:21 "So God created the great creatures of the sea and every living thing with which the water teems and that moves about in it, according to their kinds, and every winged bird according to its kind. And God saw that it was good."
Today's Devotional
A Prayer for the Spirit to Work in Your Life - Your Daily Prayer - May 22
Top Artists