'Rescue' Lauren Daigle Cover From Anthem Light's Joey Stamper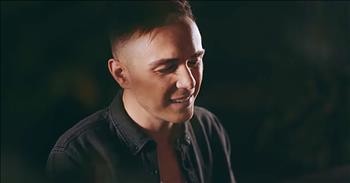 Talented vocalist Joey Stamper performs a beautiful cover of 'Rescue' from Lauren Daigle. Joey is a member of the popular Christian group, Anthem Lights. Today, he's performing on his own and it is a message that everyone in the world needs to hear.

"I will send out an army to find you
In the middle of the darkest night
It's true, I will rescue you
There is no distance
That cannot be covered
Over and over
You're not defenseless
I'll be your shelter
I'll be your armor"
This song is the perfect reminder that God is always by our side. He gives us hope and strength, even when times are hard. And when you feel like you have lost your way, He will be the light to guide you home. Joey Stamper chose 'Rescue' for a very special reason. He wrote on YouTube, "If you're like me, you can always use a gentle reminder that you are not alone. That's what this song was for me. I hope you find the same in this cover!" Hear these words and remember God's message.
Ephesians 6:13-16 "13 Therefore put on the full armor of God, so that when the day of evil comes, you may be able to stand your ground, and after you have done everything, to stand. 14 Stand firm then, with the belt of truth buckled around your waist, with the breastplate of righteousness in place, 15 and with your feet fitted with the readiness that comes from the gospel of peace."
anthem-lights

1903 views

2019-03-07T13:56:09

source: Anthem Lights Talented vocalist Joey Stamper performs a beautiful cover of 'Rescue' from Lauren Daigle. Joey is a member of the popular Christian group, Anthem Lights. Today, he's performing on his own and it is a message that everyone in the world needs to hear.

"I will send out an army to find you
In the middle of the darkest night
It's true, I will rescue you
There is no distance
That cannot be covered
Over and over
You're not defenseless
I'll be your shelter
I'll be your armor"

This song is the perfect reminder that God is always by our side. He gives us hope and strength, even when times are hard. And when you feel like you have lost your way, He will be the light to guide you home. Joey Stamper chose 'Rescue' for a very special reason. He wrote on YouTube, "If you're like me, you can always use a gentle reminder that you are not alone. That's what this song was for me. I hope you find the same in this cover!" Hear these words and remember God's message.

Ephesians 6:13-16 "13 Therefore put on the full armor of God, so that when the day of evil comes, you may be able to stand your ground, and after you have done everything, to stand. 14 Stand firm then, with the belt of truth buckled around your waist, with the breastplate of righteousness in place, 15 and with your feet fitted with the readiness that comes from the gospel of peace."
Today's Devotional
A Prayer for God's Greatness - Your Daily Prayer - March 25
Top Artists