'Another In The Fire' Hillsong UNITED Acoustic Performance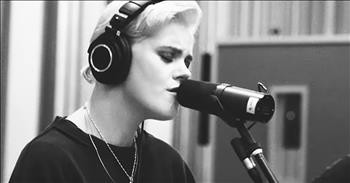 Award-winning Christian ensemble Hillsong UNITED perform an acoustic rendition of 'Another In The Fire.' These powerful words remind us that we are never alone and that God is always by our side.

"There was another in the fire
Standing next to me
There was another in the waters
Holding back the seas
And should I ever need reminding
Of how I've been set free
There is a cross that bears the burden
Where another died for me"
Hillsong UNITED is arguably one of the most popular Christian groups of the modern era. Many of their inspirational ballads of worship are now staple songs in church services across the world.
Now, this Australian-based band is blessing us with another beautiful worship song that gives all the glory to our Lord. 'Another In The Fire' reminds us that with the Lord by our side, nothing is impossible.
He is truly our light and our strength when times get dark. He will be the compass that is always there to guide us home. Even when we walk through fire, God will stand right beside us and support us the entire way.
We are so blessed to serve such a gracious and loving Father in Heaven and this worship song is the perfect way to give praise to His name.
Acts 13:38-39 "38 "Therefore, my friends, I want you to know that through Jesus the forgiveness of sins is proclaimed to you.
39 Through him everyone who believes is set free from every sin, a justification you were not able to obtain under the law of Moses."
hillsong-united

4907 views

2019-03-20T10:40:05

source: Hillsong UNITED Award-winning Christian ensemble Hillsong UNITED perform an acoustic rendition of 'Another In The Fire.' These powerful words remind us that we are never alone and that God is always by our side.

"There was another in the fire
Standing next to me
There was another in the waters
Holding back the seas
And should I ever need reminding
Of how I've been set free
There is a cross that bears the burden
Where another died for me"

Hillsong UNITED is arguably one of the most popular Christian groups of the modern era. Many of their inspirational ballads of worship are now staple songs in church services across the world.

Now, this Australian-based band is blessing us with another beautiful worship song that gives all the glory to our Lord. 'Another In The Fire' reminds us that with the Lord by our side, nothing is impossible.

He is truly our light and our strength when times get dark. He will be the compass that is always there to guide us home. Even when we walk through fire, God will stand right beside us and support us the entire way.

We are so blessed to serve such a gracious and loving Father in Heaven and this worship song is the perfect way to give praise to His name.

Acts 13:38-39 "38 "Therefore, my friends, I want you to know that through Jesus the forgiveness of sins is proclaimed to you.

39 Through him everyone who believes is set free from every sin, a justification you were not able to obtain under the law of Moses."

Today's Devotional
A Prayer for Fulfillment - Your Daily Prayer - July 17
Top Artists