'Praise Him Forever' Chris Tomlin Live Performance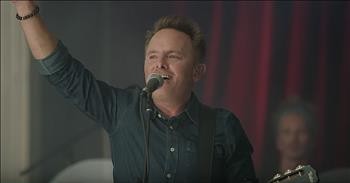 Grammy award-winning musician Chris Tomlin performs a beautiful, live rendition of his song 'Praise Him Forever.'

This powerful worship song can be found on his newest album "Holy Roar: Live From Church."
"Praise Him you beating hearts
Sing for the life He's given
Praise Him you rescued ones
Join in the sound of Heaven
From every mountaintop
To every wild ocean
Oh, hear all the universe sing praise"
Chris Tomlin is known worldwide for his beautiful worship songs such as 'Good Good Father' and 'At The Cross.'
This beloved Christian artist continues to write and perform incredible anthems that give all the glory to God. The words in 'Praise Him Forever' remind us that our Lord has given us endless blessings in this life. He freed us from our sins and gave us entry into the Kingdom of Heaven.
Now, we should praise Him in all that we do. God has truly proven that He is our light and our strength. Each day, He continues to save us over and over again.
As His followers on Earth, we have the duty of spreading the Gospel to the entire world and there's no better way than through beautiful song and worship.
When we all gather together for the Lord, it is truly an amazing experience. Let the entire world hear of His good news!
Hebrews 12:28-29 "28 Therefore, since we are receiving a kingdom that cannot be shaken, let us be thankful, and so worship God acceptably with reverence and awe, 29 for our "God is a consuming fire.""
chris-tomlin

9083 views

2019-03-18T14:19:00

source: christomlinmusic Grammy award-winning musician Chris Tomlin performs a beautiful, live rendition of his song 'Praise Him Forever.'

This powerful worship song can be found on his newest album "Holy Roar: Live From Church."

"Praise Him you beating hearts
Sing for the life He's given
Praise Him you rescued ones
Join in the sound of Heaven
From every mountaintop
To every wild ocean
Oh, hear all the universe sing praise"

Chris Tomlin is known worldwide for his beautiful worship songs such as 'Good Good Father' and 'At The Cross.'

This beloved Christian artist continues to write and perform incredible anthems that give all the glory to God. The words in 'Praise Him Forever' remind us that our Lord has given us endless blessings in this life. He freed us from our sins and gave us entry into the Kingdom of Heaven.

Now, we should praise Him in all that we do. God has truly proven that He is our light and our strength. Each day, He continues to save us over and over again.

As His followers on Earth, we have the duty of spreading the Gospel to the entire world and there's no better way than through beautiful song and worship.

When we all gather together for the Lord, it is truly an amazing experience. Let the entire world hear of His good news!

Hebrews 12:28-29 "28 Therefore, since we are receiving a kingdom that cannot be shaken, let us be thankful, and so worship God acceptably with reverence and awe, 29 for our "God is a consuming fire.""
Today's Devotional
A Prayer for Awareness of Sin - Your Daily Prayer - October 21
Top Artists