'My Hallelujah' Live Performance From Bryan And Katie Torwalt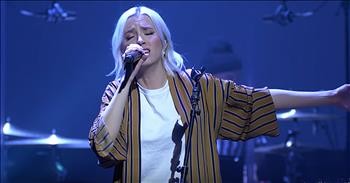 Christian couple Bryan And Katie Torwalt perform a live rendition of their hit song 'My Hallelujah.'

This powerful song reminds us that Jesus' death paved the way for our salvation.
"O, what can take away
My hallelujah
No darkness can contain
My hallelujah
Your cross has made the way
For my hallelujah
My hallelujah"
Bryan and Katie served as worship leaders in their church before realizing that God was leading them on an even bigger path. Together, they wrote the popular song 'Holy Spirit' which is still a favorite in churches all over the world.
'My Hallelujah' is another beautiful worship song that is sure to be another staple in services for years to come. This duo truly has a gift for showing our gratitude to the Lord through music. And just like the lyrics go, we'll continue to sing of His praises.
"Nothing can take my hallelujah
Nothing can take my hallelujah
Shadows will fade, darkness will break
I'll keep on singing Your praise"
Our God is so loving and so merciful. He gives us grace, even when we do not deserve it. This worship song from Bryan and Katie is the perfect way to sing of His love and grace. When we join our voices together, we are spreading His message all over the world. Come just are you are and God will always be right there waiting.
Matthew 19:25-26 "25 When the disciples heard this, they were greatly astonished and asked, "Who then can be saved?"
26 Jesus looked at them and said, "With man this is impossible, but with God all things are possible."
jesus-culture

5371 views

2019-03-14T14:16:40

source: Jesus Culture Christian couple Bryan And Katie Torwalt perform a live rendition of their hit song 'My Hallelujah.'

This powerful song reminds us that Jesus' death paved the way for our salvation.

"O, what can take away
My hallelujah
No darkness can contain
My hallelujah
Your cross has made the way
For my hallelujah
My hallelujah"

Bryan and Katie served as worship leaders in their church before realizing that God was leading them on an even bigger path. Together, they wrote the popular song 'Holy Spirit' which is still a favorite in churches all over the world.

'My Hallelujah' is another beautiful worship song that is sure to be another staple in services for years to come. This duo truly has a gift for showing our gratitude to the Lord through music. And just like the lyrics go, we'll continue to sing of His praises.

"Nothing can take my hallelujah
Nothing can take my hallelujah
Shadows will fade, darkness will break
I'll keep on singing Your praise"

Our God is so loving and so merciful. He gives us grace, even when we do not deserve it. This worship song from Bryan and Katie is the perfect way to sing of His love and grace. When we join our voices together, we are spreading His message all over the world. Come just are you are and God will always be right there waiting.

Matthew 19:25-26 "25 When the disciples heard this, they were greatly astonished and asked, "Who then can be saved?"

26 Jesus looked at them and said, "With man this is impossible, but with God all things are possible."
Today's Devotional
A Prayer for the Strength We Need to Be Joyful - Your Daily Prayer - August 14
Top Artists