35 Years Later, Elephant Still Remembers Her Old Trainer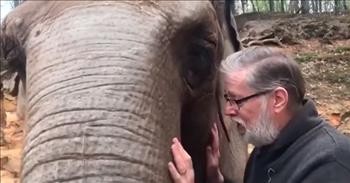 This sweet video shows how an elephant still remembers her old trainer from 35 years ago. What a special sight to see!

The former zookeeper, Peter Adamson, has wonderful memories from the time when he took care of Kristy the Asian elephant at a zoo in Scotland. From feeding, to washing, to training, these two spent many hours throughout the years bonding. Even though that was back in the early '70s and '80s, Kristy still remembers those good times with Peter as well.
"Do I smell the same?" Peter asks Kristy this question as he blows into her truck and she leans into him. The pair look so adorable cuddling up next to each other, almost like no time has passed between them.
While Peter was staying with some friends in Germany, he found out that Kristy was still alive and well and had been transferred to Neunkircher Zoo. Since the zoo was just a short distance from where he was visiting, he knew he had to make an effort to reunite with his old elephant friend.
It's remarkable that Kristy was still alive and in good health, because she had reached 52 years in age. The typical life expectancy for Asian elephants is 48 years old. The number of Asian elephants has unfortunately "plummeted by at least 50% in the past three generations" because of habitat loss and poaching. Thanks to kind caretakers like Peter, we can hopefully see that the remaining Asian elephant population in zoos will continue to thrive and grow.
After Peter contacted the Neunkircher Zoo, the employees there were able to arrange a special reunion for Kristy and her former trainer while Peter was in Germany. How wonderful that these two were able to reconnect after all these years and rekindle the bond that they have
godtube-inspiration

3797 views

2019-05-16T10:24:18

source: Inside Edition This sweet video shows how an elephant still remembers her old trainer from 35 years ago. What a special sight to see!

The former zookeeper, Peter Adamson, has wonderful memories from the time when he took care of Kristy the Asian elephant at a zoo in Scotland. From feeding, to washing, to training, these two spent many hours throughout the years bonding. Even though that was back in the early '70s and '80s, Kristy still remembers those good times with Peter as well.

"Do I smell the same?" Peter asks Kristy this question as he blows into her truck and she leans into him. The pair look so adorable cuddling up next to each other, almost like no time has passed between them.

While Peter was staying with some friends in Germany, he found out that Kristy was still alive and well and had been transferred to Neunkircher Zoo. Since the zoo was just a short distance from where he was visiting, he knew he had to make an effort to reunite with his old elephant friend.

It's remarkable that Kristy was still alive and in good health, because she had reached 52 years in age. The typical life expectancy for Asian elephants is 48 years old. The number of Asian elephants has unfortunately "plummeted by at least 50% in the past three generations" because of habitat loss and poaching. Thanks to kind caretakers like Peter, we can hopefully see that the remaining Asian elephant population in zoos will continue to thrive and grow.

After Peter contacted the Neunkircher Zoo, the employees there were able to arrange a special reunion for Kristy and her former trainer while Peter was in Germany. How wonderful that these two were able to reconnect after all these years and rekindle the bond that they have

Today's Devotional
A Prayer for When Life Doesn't Turn Out the Way You Expect - Your Daily Prayer - June 18
Top Artists