'Come Thou Fount' Duet From Husband And Wife Caleb + Kelsey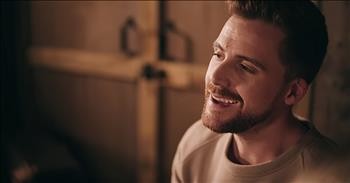 Christian couple Caleb and Kelsey Grimm combine their voices for a beautiful duet of the classic hymn, 'Come Thou Fount.'

The hymn was written in 1757 by the 18th-century pastor Robert Robinson. He was just 22 years old, at the time. The powerful lyrics, which dwell on the theme of divine grace, are based on 1 Samuel 7:12.
"Come, Thou Fount of every blessing,
Tune my heart to sing Thy grace;
Streams of mercy, never ceasing,
Call for songs of loudest praise.
Teach me some melodious sonnet,
Sung by flaming tongues above.
Praise the mount, I'm fixed upon it,
Mount of Thy redeeming love."
Today, husband and wife Caleb + Kelsey are lending their voices to this iconic hymn. Caleb and Kelsey always have a way of selecting the perfect hymn to complement their vocals and this rendition of 'Come Thou Fount' is no exception.
This hymn truly reminds us that there is hope and strength in the name of the Lord. There's no doubt that God blessed this Christian couple for a gift for singing and they are using that gift to give glory to His name.
Psalm 1:1-3 "1 Blessed is the one who does not walk in step with the wicked or stand in the way that sinners take or sit in the company of mockers, 2 but whose delight is in the law of the LORD, and who meditates on his law day and night. 3 That person is like a tree planted by streams of water, which yields its fruit in season and whose leaf does not wither— whatever they do prospers."
anthem-lights

3227 views

2019-05-16T11:35:10

source: Anthem Lights Christian couple Caleb and Kelsey Grimm combine their voices for a beautiful duet of the classic hymn, 'Come Thou Fount.'

The hymn was written in 1757 by the 18th-century pastor Robert Robinson. He was just 22 years old, at the time. The powerful lyrics, which dwell on the theme of divine grace, are based on 1 Samuel 7:12.

"Come, Thou Fount of every blessing,
Tune my heart to sing Thy grace;
Streams of mercy, never ceasing,
Call for songs of loudest praise.
Teach me some melodious sonnet,
Sung by flaming tongues above.
Praise the mount, I'm fixed upon it,
Mount of Thy redeeming love."

Today, husband and wife Caleb + Kelsey are lending their voices to this iconic hymn. Caleb and Kelsey always have a way of selecting the perfect hymn to complement their vocals and this rendition of 'Come Thou Fount' is no exception.

This hymn truly reminds us that there is hope and strength in the name of the Lord. There's no doubt that God blessed this Christian couple for a gift for singing and they are using that gift to give glory to His name.

Psalm 1:1-3 "1 Blessed is the one who does not walk in step with the wicked or stand in the way that sinners take or sit in the company of mockers, 2 but whose delight is in the law of the LORD, and who meditates on his law day and night. 3 That person is like a tree planted by streams of water, which yields its fruit in season and whose leaf does not wither— whatever they do prospers."

Today's Devotional
A Prayer for When Life Doesn't Turn Out the Way You Expect - Your Daily Prayer - June 18
Top Artists