'More To This Life' Steven Curtis Chapman Live Performance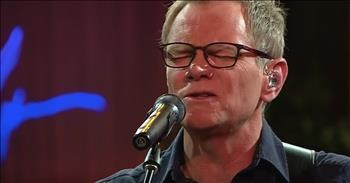 Award-winning Christian artist Steven Curtis Chapman performs a live rendition of 'More To This Life' at Gaither Studios. This was the title track off of Steven's 1989 album.

"But there's more to this life than living and dying,
More than just trying to make it through the day;
More to this life, more than these eyes alone can see,
And there's more than this life alone can be."
Singer and songwriter Steven Curtis Chapman has been a staple in Christian music since the late 1980s. Over the years, he's brought us hits such as 'Cinderella' and 'The Great Adventure.' Today, he's performing one of his first singles, 'More To This Life.' This special performance reminds us all of the importance of keeping Christ at the center of our hearts.
"So where do we start to find every part
Of what makes this life complete;
If we turn our eyes to Jesus we'll find
Life's true beginning is there at the cross where He died
He died to bring us ..."
Even when we feel lost or alone, remember that God is with us each step of the way. Our lives are complete because He made us whole.
Revelation 21:4-5 "4 'He will wipe every tear from their eyes. There will be no more death' or mourning or crying or pain, for the old order of things has passed away." 5He who was seated on the throne said, "I am making everything new!" Then he said, "Write this down, for these words are trustworthy and true.""
steven-curtis-chapman

2973 views

2019-05-13T14:24:00

source: Steven Curtis Chapman Award-winning Christian artist Steven Curtis Chapman performs a live rendition of 'More To This Life' at Gaither Studios. This was the title track off of Steven's 1989 album.

"But there's more to this life than living and dying,
More than just trying to make it through the day;
More to this life, more than these eyes alone can see,
And there's more than this life alone can be."

Singer and songwriter Steven Curtis Chapman has been a staple in Christian music since the late 1980s. Over the years, he's brought us hits such as 'Cinderella' and 'The Great Adventure.' Today, he's performing one of his first singles, 'More To This Life.' This special performance reminds us all of the importance of keeping Christ at the center of our hearts.

"So where do we start to find every part
Of what makes this life complete;
If we turn our eyes to Jesus we'll find
Life's true beginning is there at the cross where He died
He died to bring us ..."

Even when we feel lost or alone, remember that God is with us each step of the way. Our lives are complete because He made us whole.

Revelation 21:4-5 "4 'He will wipe every tear from their eyes. There will be no more death' or mourning or crying or pain, for the old order of things has passed away." 5He who was seated on the throne said, "I am making everything new!" Then he said, "Write this down, for these words are trustworthy and true.""

Today's Devotional
A Prayer for Moms Who Struggle with Their Temper - Your Daily Prayer - February 25
Top Artists