'More To Come' Worship Performance From Passion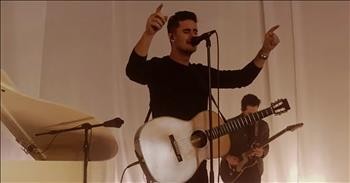 The talented vocal ensemble of Passion shares beautiful praise to our Lord with 'More To Come.' This powerful performance truly reminds us of the glory and power from our God in Heaven above.

"God, how great You are
Great things You have done
For everything we've seen
There is more to come
Every victory
Every battle won
For everything we've seen
There is more to come"
Passion has been sharing God's message with the next generation through worship music since 1995. With a keen sense of how to reach the younger audience, Passion is bringing more and more followers to Christ through their powerful lyrics and melodies.
Today's performance is no exception as the group belts out the words to 'More To Come.' When we put our trust in God, there is truly no obstacle that we cannot face. Just listen as Passion belts out these lyrics of praise.
"All of our hope in
All of our trust in
All of our future in the God who never fails"
This worship song is the perfect way to lift our voices and let the world know what a life with Christ can truly be. And there is nothing more powerful than watching a group of people stand together and lift their voices for our Almighty God in Heaven. Who else agrees?
Joshua 1:9 "Have I not commanded you? Be strong and courageous. Do not be afraid; do not be discouraged, for the LORD your God will be with you wherever you go."
passion-music

91 views

2019-10-03T14:45:19

source: Passion The talented vocal ensemble of Passion shares beautiful praise to our Lord with 'More To Come.' This powerful performance truly reminds us of the glory and power from our God in Heaven above.

"God, how great You are
Great things You have done
For everything we've seen
There is more to come
Every victory
Every battle won
For everything we've seen
There is more to come"

Passion has been sharing God's message with the next generation through worship music since 1995. With a keen sense of how to reach the younger audience, Passion is bringing more and more followers to Christ through their powerful lyrics and melodies.

Today's performance is no exception as the group belts out the words to 'More To Come.' When we put our trust in God, there is truly no obstacle that we cannot face. Just listen as Passion belts out these lyrics of praise.

"All of our hope in
All of our trust in
All of our future in the God who never fails"

This worship song is the perfect way to lift our voices and let the world know what a life with Christ can truly be. And there is nothing more powerful than watching a group of people stand together and lift their voices for our Almighty God in Heaven. Who else agrees?

Joshua 1:9 "Have I not commanded you? Be strong and courageous. Do not be afraid; do not be discouraged, for the LORD your God will be with you wherever you go."

Today's Devotional
A Prayer of Praise for Worn Out Bibles - Your Daily Prayer - September 19I live in this book, with this book, and by this book. Like our verse in Hebrews says, God's word to me is "alive and active."
Top Artists