Brother And Sister Perform Acoustic 'I Can Only Imagine' Cover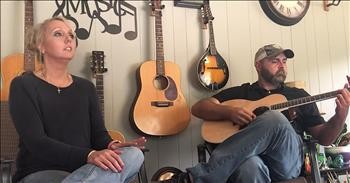 One brother and sister perform a stunning rendition of the worship song 'I Can Only Imagine.'

You may recognize Angie Sutherland from her previous music videos. Angie and her father, Edgar Napier, became viral sensations after she posted a video of the two singing 'Lord, I Wanna Go To Heaven.'
Edgar was battling stage four cancer and one of his favorite pastimes was to sit on the porch in his rocking chair and play the guitar. Angie would sing along and they would create the most beautiful sounds. Sadly, Edgar lost his fight on August 25, 2019.
Today, Angie's brother is joining her for a special rendition of this iconic worship song.
'Surrounded by You glory
What will my heart feel
Will I dance for you Jesus
Or in awe of You be still
Will I stand in your presence
Or to my knees will I fall
Will I sing hallelujah
Will I be able to speak at all
I can only imagine'
The song 'I Can Only Imagine' is the best-selling Christian song of all time. This MercyMe hit was originally released in 1999 and continues to be a staple in church services today. There's no doubt that this song has truly stood the test of time and it even inspired a film of the same name.
"I can only imagine when that day comes
When I find myself standing in the Son
I can only imagine when all I would do is forever
Forever worship You
I can only imagine"
GodTube-Music

2858 views

2019-10-08T10:04:11

source: Angie Sutherland One brother and sister perform a stunning rendition of the worship song 'I Can Only Imagine.'

You may recognize Angie Sutherland from her previous music videos. Angie and her father, Edgar Napier, became viral sensations after she posted a video of the two singing 'Lord, I Wanna Go To Heaven.'

Edgar was battling stage four cancer and one of his favorite pastimes was to sit on the porch in his rocking chair and play the guitar. Angie would sing along and they would create the most beautiful sounds. Sadly, Edgar lost his fight on August 25, 2019.

Today, Angie's brother is joining her for a special rendition of this iconic worship song.

'Surrounded by You glory
What will my heart feel
Will I dance for you Jesus
Or in awe of You be still
Will I stand in your presence
Or to my knees will I fall
Will I sing hallelujah
Will I be able to speak at all
I can only imagine'

The song 'I Can Only Imagine' is the best-selling Christian song of all time. This MercyMe hit was originally released in 1999 and continues to be a staple in church services today. There's no doubt that this song has truly stood the test of time and it even inspired a film of the same name.

"I can only imagine when that day comes
When I find myself standing in the Son
I can only imagine when all I would do is forever
Forever worship You
I can only imagine"

Today's Devotional
A Prayer for Courage - Your Daily Prayer - January 20
Top Artists