Country Singer Luke Combs Brings Young Fan From St. Jude's To Tears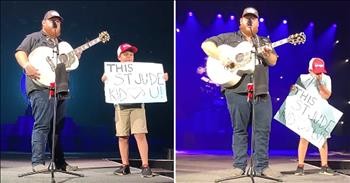 Country singer Luke Combs made one young fan's night when he pulled him onstage for a sweet serenade.

After bursting onto the music scene in 2014, Luke Combs has continued to climb to the top of the charts with singles such as 'Hurricane' and 'Beautiful Crazy.' In just a few short years, Luke has built up a legion of fans.
At a recent concert in Cape Girardeau, Missouri, the singer spotted a young fan in the crowd with a sign that said 'This St. Jude Kid loves U.' That's when Luke invited the boy up to the stage for a very special performance. Luke started to sing his popular hit, 'This One's For You.'
"Yeah I told you all I'd write you a song (Song, song)
Pour my heart in the melody
To keep you singing along (Singing along, singing along)
This might not be the right time
These might not be the right lines to prove
For sayin' what I'm tryin' to
This one's for you"
As tears streamed down the young boy's face, he used his t-shirt as a rag to wipe his eyes.
"I've been knocked down time and time again
Got picked back up by love and few good friends
Who reminded me of all I stood to lose
This one's for you"
The entire crowd was touched by the performance. Facebook user Kaydee Marie filmed the entire serenade and posted it online.
She wrote, "This man is just amazing. One of the many reasons I love Luke. Incredible experience. I don't think there was a dry eye in the building. Luke Combs, Hutsen will cherish that forever."
godtube-inspiration

2129 views

2019-10-08T12:54:37

source: Kaydee Marie Country singer Luke Combs made one young fan's night when he pulled him onstage for a sweet serenade.

After bursting onto the music scene in 2014, Luke Combs has continued to climb to the top of the charts with singles such as 'Hurricane' and 'Beautiful Crazy.' In just a few short years, Luke has built up a legion of fans.

At a recent concert in Cape Girardeau, Missouri, the singer spotted a young fan in the crowd with a sign that said 'This St. Jude Kid loves U.' That's when Luke invited the boy up to the stage for a very special performance. Luke started to sing his popular hit, 'This One's For You.'

"Yeah I told you all I'd write you a song (Song, song)
Pour my heart in the melody
To keep you singing along (Singing along, singing along)
This might not be the right time
These might not be the right lines to prove
For sayin' what I'm tryin' to
This one's for you"

As tears streamed down the young boy's face, he used his t-shirt as a rag to wipe his eyes.

"I've been knocked down time and time again
Got picked back up by love and few good friends
Who reminded me of all I stood to lose
This one's for you"

The entire crowd was touched by the performance. Facebook user Kaydee Marie filmed the entire serenade and posted it online.

She wrote, "This man is just amazing. One of the many reasons I love Luke. Incredible experience. I don't think there was a dry eye in the building. Luke Combs, Hutsen will cherish that forever."

Today's Devotional
A Prayer to Kill the Sin of Gossip in Your Life - Your Daily Prayer - December 15
Top Artists