'Way Maker' WorshipMob Covers Sinach Hit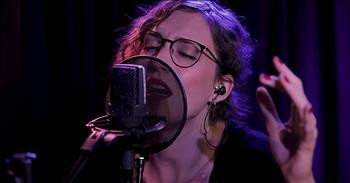 The talented voices of WorshipMob join together for a breathtaking rendition of 'Way Maker.'

This powerful song was originally recorded by Nigerian gospel singer, Sinach.
Contemporary Christian artist Michael W. Smith also released a version of the song, which helped propel it to greater popularity. Today, this incredible group is belting out these words of love and praise.
"You are
Way maker, miracle worker, promise keeper
Light in the darkness, my God
That is who You are"
WorshipMob was formed in 2011 in Colorado Springs, Colorado. Since that time, this talented group has continued to lift God's name through praise and music. Now, they are using their God-given talents to spread His message of love and peace.
"You are here, touching every heart
I worship You
I worship You"
Let these lyrics flow into your heart as you let His Holy Light shine down upon you. What a beautiful way to give praise to our Lord.
Colossian 3:14-17 "And above all these put on love, which binds everything together in perfect harmony. And let the peace of Christ rule in your hearts, to which indeed you were called in one body. And be thankful. Let the word of Christ dwell in you richly, teaching and admonishing one another in all wisdom, singing psalms and hymns and spiritual songs, with thankfulness in your hearts to God. And whatever you do, in word or deed, do everything in the name of the Lord Jesus, giving thanks to God the Father through him."
GodTube-Music

428 views

2019-10-08T15:50:27

source: WorshipMob The talented voices of WorshipMob join together for a breathtaking rendition of 'Way Maker.'
This powerful song was originally recorded by Nigerian gospel singer, Sinach.

Contemporary Christian artist Michael W. Smith also released a version of the song, which helped propel it to greater popularity. Today, this incredible group is belting out these words of love and praise.

"You are
Way maker, miracle worker, promise keeper
Light in the darkness, my God
That is who You are"

WorshipMob was formed in 2011 in Colorado Springs, Colorado. Since that time, this talented group has continued to lift God's name through praise and music. Now, they are using their God-given talents to spread His message of love and peace.

"You are here, touching every heart
I worship You
I worship You"

Let these lyrics flow into your heart as you let His Holy Light shine down upon you. What a beautiful way to give praise to our Lord.

Colossian 3:14-17 "And above all these put on love, which binds everything together in perfect harmony. And let the peace of Christ rule in your hearts, to which indeed you were called in one body. And be thankful. Let the word of Christ dwell in you richly, teaching and admonishing one another in all wisdom, singing psalms and hymns and spiritual songs, with thankfulness in your hearts to God. And whatever you do, in word or deed, do everything in the name of the Lord Jesus, giving thanks to God the Father through him."

Today's Devotional
A Prayer to Kill the Sin of Gossip in Your Life - Your Daily Prayer - December 15
Top Artists