Tractor Carries The Coffin Of Late Farmer During Emotional Send Off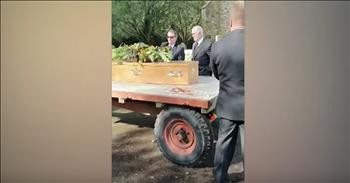 It was an emotional moment when a tractor carries the coffin of this late farmer during a tear-jerking send off.

This touching moment was all captured on camera as 95-year-old David Young was taken to his funeral. David was an elderly farmer who grew up in Isfield, East Sussex.
His family has lived and worked at the farm for over 100 years. This man spent so much of his life in the fields and thousands of memories were shared.
So, when David lost his battle to dementia, his children knew that they wanted to give him a 'proper farmer's funeral.' Adorned with a wreath of English vegetables,
David's coffin was carried from the family farm all the way to the village church on a trailer towed by a tractor. As the tractor rides by, you can see funeral guests paying their last respects David.
This was truly a beautiful way to bid farewell to a beloved man and farmer. It's obvious that his family cared so much about him and this was such an amazing way to send him off.
Genesis 1:11-12 "And God said, "Let the earth sprout vegetation, plants yielding seed, and fruit trees bearing fruit in which is their seed, each according to its kind, on the earth." And it was so. The earth brought forth vegetation, plants yielding seed according to their own kinds, and trees bearing fruit in which is their seed, each according to its kind. And God saw that it was good."
godtube-inspiration

2635 views

2019-10-15T12:33:37

source: Caters Clips It was an emotional moment when a tractor carries the coffin of this late farmer during a tear-jerking send off.

This touching moment was all captured on camera as 95-year-old David Young was taken to his funeral. David was an elderly farmer who grew up in Isfield, East Sussex.

His family has lived and worked at the farm for over 100 years. This man spent so much of his life in the fields and thousands of memories were shared.

So, when David lost his battle to dementia, his children knew that they wanted to give him a 'proper farmer's funeral.' Adorned with a wreath of English vegetables,

David's coffin was carried from the family farm all the way to the village church on a trailer towed by a tractor. As the tractor rides by, you can see funeral guests paying their last respects David.

This was truly a beautiful way to bid farewell to a beloved man and farmer. It's obvious that his family cared so much about him and this was such an amazing way to send him off.

Genesis 1:11-12 "And God said, "Let the earth sprout vegetation, plants yielding seed, and fruit trees bearing fruit in which is their seed, each according to its kind, on the earth." And it was so. The earth brought forth vegetation, plants yielding seed according to their own kinds, and trees bearing fruit in which is their seed, each according to its kind. And God saw that it was good."

Today's Devotional
A Prayer to Overcome Evil - Your Daily Prayer - February 20
Top Artists