'Highlands (Song Of Ascent)' Hillsong UNITED Acoustic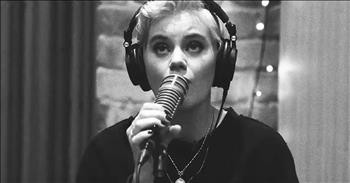 Popular Christian ensemble Hillsong UNITED perform a special acoustic rendition of their single 'Highlands (Song Of Ascent).' The lyrics of this song remind us that God is the constant in our lives.

"O how fast would You come running
If just to shadow me through the night
Trace my steps through all my failure
And walk me out the other side"
Hillsong UNITED is an Australian-based band that originally started as the worship group for Hillsong Church. As their songs and popularity grew, they realized that they had a unique opportunity to minister to the world through music.
Today, the talented ensemble is one of the most popular groups of the modern era giving us hits such as 'Oceans (Where Feet May Fail)' and 'So Will I (100 Billion X).' Today, they're performing an acoustic rendition of 'Highlands (Song Of Ascent).' Just listen as they belt out this beautiful praise to our Lord.
"I will praise You on the mountain
And I will praise You when the mountain's in my way
You're the summit where my feet are
So I will praise You in the valleys all the same
No less God within the shadows
No less faithful when the night leads me astray
You're the heaven where my heart is
In the highlands and the heartache all the same"
Even in our difficult seasons, we will continue to praise His Holy Name. God is so good and we are blessed to call Him Father.
Deuteronomy 10:21 "He is the one you praise; he is your God, who performed for you those great and awesome wonders you saw with your own eyes."
hillsong-united

3417 views

2019-06-28T14:06:53

source: Hillsong United Popular Christian ensemble Hillsong UNITED perform a special acoustic rendition of their single 'Highlands (Song Of Ascent).' The lyrics of this song remind us that God is the constant in our lives.

"O how fast would You come running
If just to shadow me through the night
Trace my steps through all my failure
And walk me out the other side"

Hillsong UNITED is an Australian-based band that originally started as the worship group for Hillsong Church. As their songs and popularity grew, they realized that they had a unique opportunity to minister to the world through music.

Today, the talented ensemble is one of the most popular groups of the modern era giving us hits such as 'Oceans (Where Feet May Fail)' and 'So Will I (100 Billion X).' Today, they're performing an acoustic rendition of 'Highlands (Song Of Ascent).' Just listen as they belt out this beautiful praise to our Lord.

"I will praise You on the mountain
And I will praise You when the mountain's in my way
You're the summit where my feet are
So I will praise You in the valleys all the same
No less God within the shadows
No less faithful when the night leads me astray
You're the heaven where my heart is
In the highlands and the heartache all the same"

Even in our difficult seasons, we will continue to praise His Holy Name. God is so good and we are blessed to call Him Father.

Deuteronomy 10:21 "He is the one you praise; he is your God, who performed for you those great and awesome wonders you saw with your own eyes."

Today's Devotional
A Prayer for Moms Who Struggle with Their Temper - Your Daily Prayer - February 25
Top Artists