'Too Good To Not Believe' Brandon Lake Worship Performance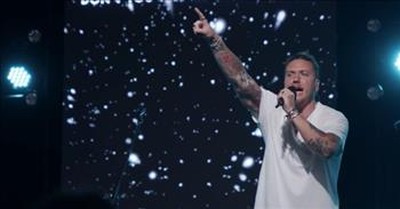 You need to watch Brandon Lake's 'Too Good to Not Believe' worship performance.

Wow. Goosebumps for almost the entire video. If you've been feeling low lately, this song is for you.
Brandon Lake is a member of the Bethel Music collective, the Christian record company created by Bethel Church. He co-writes a bunch of contemporary worship music and works with a handful of worship singers and songwriters.
Now, this man devotes his life to spreading God's word through music!
He also serves as a pastor at Seacoast Church in South Carolina. His
bio
says that he "believes that the people of God should be the freest people on the planet" and that he is "passionate about releasing joy and excitement while pursuing the presence of God in worship."
Prayer and worship can do incredible things on their own, but group prayer and worship can change lives. This video of his live performance made me feel as if I was in the room. This is the kind of worship we need when everybody feels so far apart, even if we just watch a video or stream online.
Brandon wrote 'Too Good to Not Believe' with Cody Carnes, a solo artist that used to make music with Capitol Christian Music Group. Chris Davenport and Joshua Silverberg, other Christian songwriters, also helped write the song.
The lyrics focus on believing the unbelievable because we have all witnessed the miracles of God. They list different sicknesses and struggles that people have overcome because of Him.
I've seen real life resurrection,
I've seen mental health restored
Don't you tell me He can't do it
Focusing on the miracles that someone has personally seen or experienced helps denounce any doubt. So much doubt exists now, especially after 2020, but God performed miracles every single day through Covid -- big and small.
For truly I say to you, That whoever shall say to this mountain, Be you removed, and be you cast into the sea; and shall not doubt in his heart, but shall believe that those things which he said shall come to pass; he shall have whatever he said.
Mark 11:23
bethel-music

1304 views

2021-06-11T15:12:00

source: Bethel Music You need to watch Brandon Lake's 'Too Good to Not Believe' worship performance.

Wow. Goosebumps for almost the entire video. If you've been feeling low lately, this song is for you.

Brandon Lake is a member of the Bethel Music collective, the Christian record company created by Bethel Church. He co-writes a bunch of contemporary worship music and works with a handful of worship singers and songwriters.

Now, this man devotes his life to spreading God's word through music!

He also serves as a pastor at Seacoast Church in South Carolina. His bio says that he "believes that the people of God should be the freest people on the planet" and that he is "passionate about releasing joy and excitement while pursuing the presence of God in worship."

Prayer and worship can do incredible things on their own, but group prayer and worship can change lives. This video of his live performance made me feel as if I was in the room. This is the kind of worship we need when everybody feels so far apart, even if we just watch a video or stream online.

Brandon wrote 'Too Good to Not Believe' with Cody Carnes, a solo artist that used to make music with Capitol Christian Music Group. Chris Davenport and Joshua Silverberg, other Christian songwriters, also helped write the song.

The lyrics focus on believing the unbelievable because we have all witnessed the miracles of God. They list different sicknesses and struggles that people have overcome because of Him.

I've seen real life resurrection,
I've seen mental health restored
Don't you tell me He can't do it

Focusing on the miracles that someone has personally seen or experienced helps denounce any doubt. So much doubt exists now, especially after 2020, but God performed miracles every single day through Covid -- big and small.

For truly I say to you, That whoever shall say to this mountain, Be you removed, and be you cast into the sea; and shall not doubt in his heart, but shall believe that those things which he said shall come to pass; he shall have whatever he said. Mark 11:23
Today's Devotional
A Prayer to Remember That Joy Is a Way of Life - Your Daily Prayer - May 21
The Bible commands us, "be joyful aways!"
Top Artists
Top Music Videos