'My Jesus' Anne Wilson's Heartbreaking Video Showcases God's Healing Power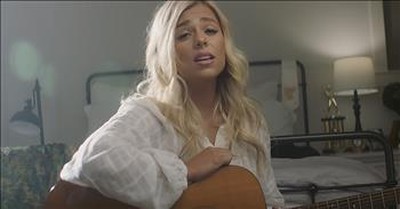 19-year-old Anne Wilson shares a message of hope with the world through her debut single, 'My Jesus.' Even when you are lost, God remains steadfast in His love for each and every one of us.

"Are you past the point of weary
Is your burden weighing heavy
Is it all too much to carry
Let me tell you 'bout my Jesus"
Anne Wilson learned early in life that music has healing powers. After she lost her brother in an automobile accident, Anne found comfort in the words of Hillsong Worship's "What A Beautiful Name."
On her website
, Anne shared that she sang for the very first time in public at her brother's funeral.
Now, she is sharing her story through the heart wrenching video and lyrics for her first single, 'My Jesus.' The song was co-written with with Jeff Pardo and Matthew West and Anne says it "is a warm invitation to experience her Savior in the same intimate way she knows Him."
"Ain't no sinner that He can't save, let me tell you 'bout my Jesus
His love is strong and His grace is free
And the good news is I know that He
Can do for you what He's done for me"
After overcoming heartache and hardship, Anne found strength in the arms of the Lord. What a beautiful reminder to us all to turn our eyes upon Jesus.
Ephesians 2:8-9 "For by grace you have been saved through faith. And this is not your own doing; it is the gift of God, not a result of works, so that no one may boast."
anne-wilson

3203 views

2021-04-21T15:28:00

source: AnneWilsonVEVO 19-year-old Anne Wilson shares a message of hope with the world through her debut single, 'My Jesus.' Even when you are lost, God remains steadfast in His love for each and every one of us.

"Are you past the point of weary
Is your burden weighing heavy
Is it all too much to carry
Let me tell you 'bout my Jesus"

Anne Wilson learned early in life that music has healing powers. After she lost her brother in an automobile accident, Anne found comfort in the words of Hillsong Worship's "What A Beautiful Name."

On her website, Anne shared that she sang for the very first time in public at her brother's funeral.

Now, she is sharing her story through the heart wrenching video and lyrics for her first single, 'My Jesus.' The song was co-written with with Jeff Pardo and Matthew West and Anne says it "is a warm invitation to experience her Savior in the same intimate way she knows Him."

"Ain't no sinner that He can't save, let me tell you 'bout my Jesus
His love is strong and His grace is free
And the good news is I know that He
Can do for you what He's done for me"

After overcoming heartache and hardship, Anne found strength in the arms of the Lord. What a beautiful reminder to us all to turn our eyes upon Jesus.

Ephesians 2:8-9 "For by grace you have been saved through faith. And this is not your own doing; it is the gift of God, not a result of works, so that no one may boast."

Today's Devotional
A Prayer to Remember That Joy Is a Way of Life - Your Daily Prayer - May 21
The Bible commands us, "be joyful aways!"
Top Artists
Top Music Videos