'Thy Will' - Worship From Hillary Scott And The Scott Family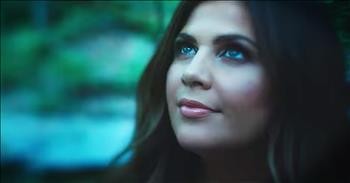 Lady Antebellum lead singer Hillary Scott leads us in worship with the beautiful song 'Thy Will.' These beautiful lyrics remind us all that God is in control.

"I know you hear me
I know you see me, Lord
Your plans are for me
Good news you have in store"
Hillary Scott is an award-winning singer and songwriter. This country superstar is known worldwide as one third of the popular duo, Lady Antebellum.
While Hillary has always been a woman of faith, it wasn't until recently that she entered the Christian music scene. After suffering a miscarriage in 2015, Hillary was left with many unanswered questions and fears.
During that difficult time, she turned to God and the words of 'Thy Why' came pouring out. She shared with CCM Magazine the reason behind releasing the deeply personal song. "When I was faced with this trial…it was like I felt God going, 'Okay, you're singing about all of the things that you say I am; and that you trust Me and that your hope is in Me. Now, are you going to walk the walk, or are you just going to talk the talk?'"
"So, thy will be done
Thy will be done
Thy will be done
Like a child on my knees all that comes to me is
Thy will be done"
Matthew 6:9-13 "Pray then like this: "Our Father in heaven, hallowed be your name. Your kingdom come, your will be done, on earth as it is in heaven. Give us this day our daily bread, and forgive us our debts, as we also have forgiven our debtors. And lead us not into temptation, but deliver us from evil."
Embed

hillary-scott

74258 views

2016-06-21T10:32:00

Lady Antebellum lead singer Hillary Scott leads us in worship with the beautiful song 'Thy Will.' These beautiful lyrics remind us all that God is in control.

"I know you hear me
I know you see me, Lord
Your plans are for me
Good news you have in store"

Hillary Scott is an award-winning singer and songwriter. This country superstar is known worldwide as one third of the popular duo, Lady Antebellum.

While Hillary has always been a woman of faith, it wasn't until recently that she entered the Christian music scene. After suffering a miscarriage in 2015, Hillary was left with many unanswered questions and fears.

During that difficult time, she turned to God and the words of 'Thy Why' came pouring out. She shared with CCM Magazine the reason behind releasing the deeply personal song. "When I was faced with this trial…it was like I felt God going, 'Okay, you're singing about all of the things that you say I am; and that you trust Me and that your hope is in Me. Now, are you going to walk the walk, or are you just going to talk the talk?'"

"So, thy will be done
Thy will be done
Thy will be done
Like a child on my knees all that comes to me is
Thy will be done"

Matthew 6:9-13 "Pray then like this: "Our Father in heaven, hallowed be your name. Your kingdom come, your will be done, on earth as it is in heaven. Give us this day our daily bread, and forgive us our debts, as we also have forgiven our debtors. And lead us not into temptation, but deliver us from evil."

Today's Devotional
A Prayer to Help Your Kids Love God's Word - Your Daily Prayer - July 5
Top Artists