'More To Come' - Passion Feauring Kristian Stanfill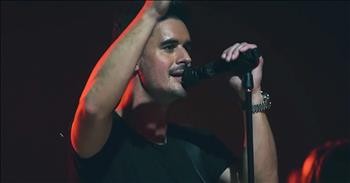 Passion puts on a beautiful live performance of 'More To Come' featuring Kristian Stanfill from their new album 'Follow You Anywhere.' This talented worship band is back with another praise-filled song for the Lord.

"God, how great You are
Great things You have done
For everything we've seen
There is more to come
Every victory, every battle won
For everything we've seen
There is more to come"
This special performance of 'More To Come' was shot in Atlanta, Georgia and it features the band along with fellow Christian artist Kristian Stanfill. Together, these incredible voices sing of our God's incredible strength and power. These words will truly remind you that there is nothing that He cannot do.
"We are confident in all Your ways
Cause we know You never make mistakes
God, You fill us with a greater faith
We believe "
When we put our faith and trust in the Lord, we are truly starting on a better path. God has placed us on this Earth for a reason and we are here to spread His message to everyone. This worship song is the perfect way to let the world know what a life with Christ really means. And there's nothing more powerful than watching a group of people stand together and lift their voices for God. Who else agrees?
Joshua 1:9 "Have I not commanded you? Be strong and courageous. Do not be afraid; do not be discouraged, for the LORD your God will be with you wherever you go."
passion-music

3333 views

2019-01-08T11:28:07

source: PassionVEVO Passion puts on a beautiful live performance of 'More To Come' featuring Kristian Stanfill from their new album 'Follow You Anywhere.' This talented worship band is back with another praise-filled song for the Lord.

"God, how great You are
Great things You have done
For everything we've seen
There is more to come
Every victory, every battle won
For everything we've seen
There is more to come"

This special performance of 'More To Come' was shot in Atlanta, Georgia and it features the band along with fellow Christian artist Kristian Stanfill. Together, these incredible voices sing of our God's incredible strength and power. These words will truly remind you that there is nothing that He cannot do.

"We are confident in all Your ways
Cause we know You never make mistakes
God, You fill us with a greater faith
We believe "

When we put our faith and trust in the Lord, we are truly starting on a better path. God has placed us on this Earth for a reason and we are here to spread His message to everyone. This worship song is the perfect way to let the world know what a life with Christ really means. And there's nothing more powerful than watching a group of people stand together and lift their voices for God. Who else agrees?

Joshua 1:9 "Have I not commanded you? Be strong and courageous. Do not be afraid; do not be discouraged, for the LORD your God will be with you wherever you go."
Today's Devotional
A Prayer to Celebrate God's Good Gifts in Us - Your Daily Prayer - June 27
Top Artists