Tori Kelly Sings Her Heart Out In 'Soul's Anthem (It Is Well)'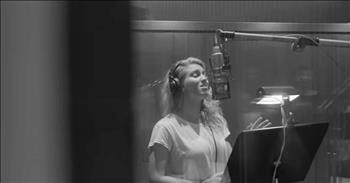 With stunning and clear vocals, Tori Kelly wows again singing a reworked gospel classic "Soul's Anthem (It Is Well)". Early on in her career, Tori found herself struggling to find a balance between who God wanted her to be and what the world was looking for in a music artist. She's been very vocal in the part her faith has played in her career and life. This is the perfect song for a young artist who is seeking God and using their talents for His purposes!

"Teach me how to love You,
Show me how to trust You.
More than with my words or with a song.
No, it's not been easy.To live life down on my knees.
But with faith I know I'll carry on"
The lyrics to the opening verse are so moving. Asking God to guide our steps and to be a strength in time of need. There is such a beautiful simplicity in those words and a message that we can all cling to.
Most of us probably remember singing "It Is Well" in church growing up. The refrain of this song is a gentle reminder that even in those hard times, those down times, our God is bigger and stronger. He supplies all we need and offers a sweet peace for our lives. We can truly claim that "It is well with my soul!"
"It is well (It is well),
With my soul (With my soul),
It is well, it is well with my soul,
It is well (It is well),
With my soul (With my soul),
It is well, it is well with my soul"
godtube-inspiration

12339 views

2018-09-27T15:40:00

source: Tori Kelly With stunning and clear vocals, Tori Kelly wows again singing a reworked gospel classic "Soul's Anthem (It Is Well)". Early on in her career, Tori found herself struggling to find a balance between who God wanted her to be and what the world was looking for in a music artist. She's been very vocal in the part her faith has played in her career and life. This is the perfect song for a young artist who is seeking God and using their talents for His purposes!

"Teach me how to love You,
Show me how to trust You.
More than with my words or with a song.
No, it's not been easy.To live life down on my knees.
But with faith I know I'll carry on"

The lyrics to the opening verse are so moving. Asking God to guide our steps and to be a strength in time of need. There is such a beautiful simplicity in those words and a message that we can all cling to.

Most of us probably remember singing "It Is Well" in church growing up. The refrain of this song is a gentle reminder that even in those hard times, those down times, our God is bigger and stronger. He supplies all we need and offers a sweet peace for our lives. We can truly claim that "It is well with my soul!"

"It is well (It is well),
With my soul (With my soul),
It is well, it is well with my soul,
It is well (It is well),
With my soul (With my soul),
It is well, it is well with my soul"
Today's Devotional
A Prayer for a New Home - Your Daily Prayer - June 17
Top Artists